Apple is coming to the Big Apple for a media-related event in late January?
1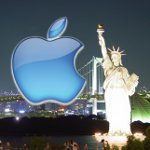 Call it a rarity, but the rumors have it that
Apple
is planning on having some sort of media-related event sometime in
late January
. Interestingly, it's actually expected to happen in the
Big Apple
of all places.
Now don't start jumping up and down your seat, well, that's because it's doesn't seem to be something all that large-scale, but rather, it's seemingly going to be focusing on something around
publishing or advertising
. So you might as well get the thought of the
iPad 3
or new Apple TV out of your mind right now – though, it would be neat if they did something completely out of character.
Actually, the main reason why it's alleged to be around advertising, is because Apple's SVP of Internet Software and Services,
Eddy Cue
, will be involved with the whole thing. For those who are unaware, Cue is associated with many of Apple's media units, which include things like the App Store, iTunes Store, iAd, iCloud, and iBookstore. Looking back at it, Cue was involved with another Apple event in New York City when they helped bring
News Corp's "The Daily" online magazine
.
Considering we're just starting the month, and that CES will be bringing a lot of exciting things to the table next week, the notion of Apple doing something at the end of the month caps off one busy month in the consumer electronics space. Hopefully, we'll hear some concrete news about Apple's shindig as we get closer to the end of the month.
source:
All Things D
via
BGR