The iPad meets The Daily
1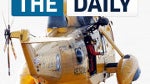 It was dubbed "first-of-its-kind", rumoredand delayed,but finally "The Daily" exclusive iPad magazine is up andrunning. Not only it is available to iPad users, Apple also featuredit on their home page. Was all the hype around Rupert Murdoch's firstiPad project justified?
The magazine went live yesterday with afree two-week trial subscription. When that period ends, "TheDaily" will charge you $0.99 a week or $40 a year for fullaccess to the exclusive iPad news publication. It has six mainsections: News, Gossip, Opinion, Arts & Life, Apps & Gamesand Sports and claims that it has some of the top journalists anddesigners behind the content.
It's no surprise that a digitalpublication like NewsCorp's "The Daily" has more to offer andwhat you would instantly notice are the smooth transitions betweenarticles as well as the different types of content and animationsembedded in the reading experience. It doesn't hurt to try it with afree trial from here, so once you do that let us know of your opinion on "TheDaily" in the comments!
source: Apple