Apple iPhone 5 cleared for release on China Telecom
6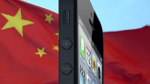 We have been seeing the numbers and as of just two weeks ago, Android held 90% of the smartphone market share in China. This news may not change that number too much, given the proliferation of inexpensive non-Google Android devices in the country, but it certainly can't hurt that Apple's iPhone 5 has now been cleared for release on China Telecom.
Apple had been waiting on a "network access license", which has just been granted. This means that Apple's iPhone 5 is now allowed to be released for China's third-largest mobile carrier, China Telecom. So far, Apple has not been able to get access licenses for China's top two carriers: China Mobile (#1) and China Unicom (#2), and it doesn't look like Apple will get the license for China Unicom before launching the iPhone 5.
Analysts believe that not having the iPhone 5 on the larger carriers could mean that Android will widen its market share lead in China.