77 Apple iPhone 11 Pro handsets can be won in this cool sweepstakes (US only)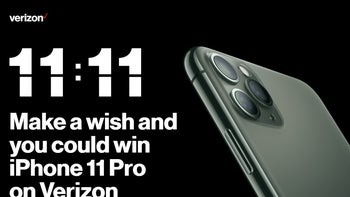 Dubbed "iPhone 11:11", Verizon's new sweepstakes began today, September 13, and will end on September 19, 2019, at 11:59 pm PT. The only way to participate in the sweepstakes is via this Verizon website, but you can enter even if you're not a Verizon customer.
To actually enter for a chance to win in this sweepstakes, you'll have to "make a wish" and tell Verizon why you'd like to own an
iPhone 11
. After you type in your wish, you'll need to share it on Twitter - this gives you one chance to win. Your tweet has to include @Verizon plus the hashtags #Sweepstakes and #iPhone1111. If you enter your wish at 11:11 (am or pm local time), your chances of winning are multiplied by 11.
An entry is eligible only if it's written in English and is your "original work product." It cannot contain profanities or copyrighted material, nor references to other brands. Out of curiosity, we tried to include "Google
Pixel
4" in an entry, but Verizon wouldn't validate it. Verizon had no issue with an entry including just "Pixel 4", but we don't recommend you try stuff like this, because you might be disqualified.
All in all, Verizon is giving away 11 new iPhones each day for 7 days - thus 77 handsets in total. All will be
iPhone 11 Pro 64 GB
models (normally priced at $999). In addition to iPhones, winners who are Verizon customers will get $250 gift cards. Winners who are not Verizon customers will receive three-month trials on a Verizon Unlimited plan (valued at $250).
Before entering Verizon's sweepstakes, you should know that you're eligible to win only if you have at least 18 years old and you legally reside in one of the 48 contiguous United States or the District of Columbia (Alaska and Hawaii are excluded). You can read the full rules of the sweepstakes here.