You can now preorder iPhone 11 and iPhone 11 Pro
30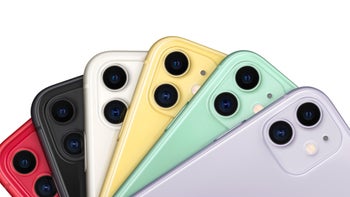 Quick question: what would you wake up at 5:00AM for? To have an energizing morning jog while the city is still asleep? To be the first to pick up fresh, warm croissants at the bakery? Or to place an iPhone 11 preorder, perhaps?
If you fall into the latter category, then this Friday the 13th is your lucky day, apparently. Apple just opened the iPhone 11 preorder floodgates, meaning that anyone eager to be among the first owners of an
iPhone 11
,
iPhone 11 Pro
, or an
iPhone 11 Pro Max
can now reserve one.
The iPhone 11 preorders are now live
The
Apple Store
might load more slowly than usual because of the overwhelming amount of iPhone preorders all going through at the same time, but there are alternatives. If you're having troubles with the Apple Store, you may try placing an order through the official Apple Store app for iOS. Or try checking out the web store of your carrier of choice. Best Buy is also about to start accepting preorders for all new iPhone 11 models.
UPDATE:
AT&T
,
Verizon
,
T-Mobile
,
Sprint
, and Best Buy are all now accepting iPhone 11 preorders.
Keep in mind that iPhone inventory tends to run out quickly, so if you want an iPhone 11 as soon as possible, it is a good idea to preorder one as soon as possible. In previous years, the base, least expensive models were the ones to sell out first, and we doubt that this year things will be any different. Even if stock is low, you'll still be able to preorder any iPhone 11 variant, but it might be weeks after the iPhone 11 release date before you get yours.
iPhone 11 price and release date
Speaking of which, the iPhone 11 release date for 2019 is September 20 for over 30 countries, the US included. Prices start at $699 for the iPhone 11, $999 for the iPhone 11 Pro, and $1099 for the iPhone 11 Pro Max. Buyers get a year of Apple TV+ for free with their purchase.
For those who've missed the Apple Event on Tuesday, the iPhone 11 series brings significant upgrades in the camera department. The iPhone 11 succeeds the iPhone XR from last year and adds a super wide-angle camera in addition to an upgraded main one. Both shoot 12MP photos and capture 4K video at 60fps. As for the iPhone 11 Pro and iPhone 11 Pro Max, they both come with triple cameras: super wide, 2x zoom telephoto, and a regular 12MP cam for every-day use. Improvements in battery life were also pointed out during the announcement event.