Apple iPad mini 3 unboxing
5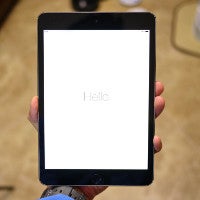 Apple seemingly appeased several owners of its full-sized iPad when it introduced the iPad mini a couple years ago. Well, it's crazy to believe that the 3rd generation model, aptly named the iPad mini 3, is finally making its rounds starting today. This year's model, however, didn't see much love versus the iPad Air 2 – more so knowing that there are few changes to it.
Before all of that, we'll start off first with the retail box, which unsurprisingly enough, looks exactly like any other packaging from beneath Apple's wing. On the front, we have a profile view of the tablet in question – one that looks pretty darn skinny for any tablet. Aside from that, we're given a glimpse into what model it is that's within the packaging, as well as some of the included goodies inside. Naturally, they include the usual set of documentation from Apple, those iconic Apple decals, wall charger, and the Lightning USB able.
Visually, there's nothing too profoundly different with the iPad mini 3's design. Most folks would probably agree with us, but if there's one notable difference, it has to be the home button. Gone is the concave button with that iconic square inside of it, replaced instead with the uniformly recessed home button of newer iDevices. In fact, it incorporates the new Touch ID finger print sensor, which is not only used to unlock the device, but it's enabled to with Apple Pay as well.
Rather than continuing to jabber about the iPad mini 3, we'll be putting it through some heavy testing in the meantime, so you can expect our review soon. Is it compelling enough to make iPad mini 2 owners instantly dich their tablet and shell out the money to pick up this one? We shall find out!