Apple iPad mini 3 to skip on the A8-gen chips altogether, sticks with A7
25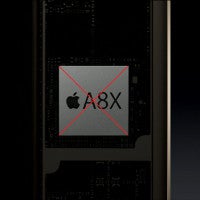 While the
iPad Air 2
received several notable upgrades, including an improved, Apple-designed 64-bit A8X processor, it turns out that the
iPad mini 3
will stick to the very same chip powering its predecessor -- the Apple A7.
Now, the Apple A7 is by no means a sluggish performer or anything like that, but we're curious as to why Apple chose to change the pace with the smaller iPad so drastically -- in comparison, the previous generation
iPad Air
and
iPad mini with Retina
were on equal footing as far as the silicon powering them went. What's more, according to Apple, the A8X is no joke, even compared to the A8 that debuted with the
iPhone 6
and
iPhone 6 Plus
. Put in numbers, the 3 billion transistors of the A8X apparently make it up to 40% faster than the A8, while the GPU is up to 2.5 times more capable.
Again, it should be pointed out that, in our experience, the previous iPad mini with its A7 chip has proven more than capable enough, and we've ran into virtually no performance-related issues with it. Obviously, though, the fact that the iPad mini 3 commands the same $399 starting price without offering the same jump in performance (and little else other than TouchID and a gold color option) will likely not sit well with all.