Apple iPad Pro 12.9-inch vs iPad Pro 10.5-inch vs iPad 9.7-inch: A specs comparison
15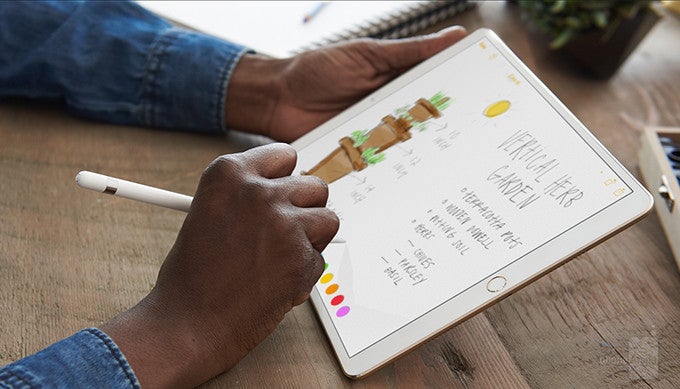 Major hardware announcements are definitely not the norm for Apple's WWDC dev summits, but this year's keynote marked the arrival of two new big updates for the iPad line.
Apple announced the all-new iPad Pro 12.9-inch is an upgrade to the original iPad Pro from way back in 2015, while the smaller, 10.5-inch model succeeds last year's 9.7-inch slate.
The highlights of the two new iPads are their ultra-responsive, HDR-compliant, super-smooth 120Hz displays... which still don't support 3D Touch. Oh well. Aside from that, the new slates are powered by the Apple A10X Fusion chip that's guaranteed to bring great performance to the mix. There are a lot of other new hardware changes, but the best way to visualize these will be to compare how the new slates stack up against some of Apple's previous ones.
600 cd/m2 (nit)
600 cd/m2 (nit)
Oleophobic coating, Ambient light sensor
Oleophobic coating, Ambient light sensor
Oleophobic coating, Ambient light sensor
Apple A9 APL0898 (16 nm)
Apple A10X Fusion APL1071 (10 nm)
Apple A10X Fusion APL1071 (10 nm)
Dual-core, 1850 MHz, Twister, 64-bit
Hexa-core, 2380 MHz, Hurricane and Zephyr, 64-bit
Hexa-core, 2380 MHz, Hurricane and Zephyr, 64-bit
PowerVR GT7600
Apple 12-core GPU
Apple 12-core GPU
iOS (13.x, 12.x, 11.x, 10.x)
iOS (13.x, 12.x, 11.x, 10.x)
iOS (13.x, 12.x, 11.x, 10.x)
8827 mAh
8134 mAh
10891 mAh
LTE: 9 hours; Wi-Fi: 10 hours
LTE: 9 hours; Wi-Fi: 10 hours
LTE: 9 hours; Wi-Fi: 10 hours
Single camera
Single camera
Single camera
8 MP (Autofocus, BSI sensor)
12 MP (Sapphire crystal lens cover, OIS, Autofocus, BSI sensor)
12 MP (Sapphire crystal lens cover, OIS, Autofocus, BSI sensor)
Aperture size: F2.4; Pixel size: 1.1 μm
Aperture size: F1.8
Aperture size: F1.8
1920x1080 (Full HD) (30 fps)
3840x2160 (4K UHD) (30 fps), 1920x1080 (Full HD) (120 fps), 1280x720 (HD) (240 fps)
3840x2160 (4K UHD) (30 fps), 1920x1080 (Full HD) (120 fps), 1280x720 (HD) (240 fps)
Time-lapse video, EIS, Video calling, Video sharing
OIS, Time-lapse video, Continuous autofocus, Picture-taking during video recording, Video light, EIS, Video calling, Video sharing
OIS, Time-lapse video, Continuous autofocus, Picture-taking during video recording, Video light, EIS, Video calling, Video sharing
1.2 MP
7 MP
7 MP
1280x720 (HD)
1920x1080 (Full HD)
1920x1080 (Full HD)
9.45 x 6.67 x 0.30 inches (240 x 169.5 x 7.5 mm)
9.87 x 6.85 x 0.24 inches (250.6 x 174.1 x 6.1 mm)
12.04 x 8.69 x 0.27 inches (305.7 x 220.6 x 6.9 mm)
16.86 oz (478.0 g)
the

average

is 18.5 oz (529 g)
16.83 oz (477.0 g)
the

average

is 18.5 oz (529 g)
24.41 oz (692.0 g)
the

average

is 18.5 oz (529 g)
Back: Aluminum
Back: Aluminum
Back: Aluminum
Fingerprint (touch)
Fingerprint (touch)
Fingerprint (touch)