Apple gets German court to invalidate a Samsung 3G patent
21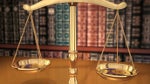 Late Wednesday, a Federal Patent Court in Germany stripped Samsung of what the Korean manufacturer had called an
essential patent
for the UMTS 3G standard. The patent covered "
turbo encoding/decoding device and method for processing frame data according to QoS
," and the court also removed the patent protection on all of the proposed amendments to the original patent made by Samsung. Samsung can still appeal the ruling to the Federal Court of Justice.
You might recall that more than a year ago, the EC had turned the tables on Samsung saying that
the company was asking for "excessive" fees for its SEP patents
, while at the same time seeking injunctions against Apple devices. Samsung has since
withdrawn
its request for injunctions against Apple in this matter, and is merely seeking damages. It also continues to seek both injunctions and damages against Apple in cases involving non SEP patents.
We're pretty sure that there will be those who will accuse the Federal Patent Court court of playing favorites, so we should point out that
the same court last week invalidated Apple's "slide-to-unlock" patent
. Apple has started to appeal the ruling, but earlier rulings in Germany, the UK, and the Netherlands went against Apple making it hard for the Cupertino based company to score a reversal.
source:
electronista