Apple creates 30 second ad to commemorate closing of Beats deal
18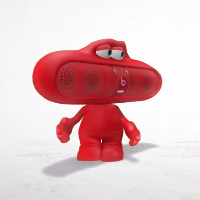 A 30 second ad that probably isn't meant for television, was uploaded to Beats' Twitter account to officially announce to the world, that Apple has closed on
its acquisition of Beats
. In the ad, we are introduced to Mikey and Tina, two characters based on the Beats by Dre Pill speakers. Hearing all about the Apple acquisition of Beats in the newspaper, the two want to celebrate. But where would a couple of pill-headed animated characters go to blow off some steam?
Just then, Siri is heard from. Talking to Mikey and Tina like the voice of God from above, Apple's personal virtual assistant says she heard that Dr. Dre is having a party. Mikey asks for directions to Dre's party, but is shot down by Siri. "
Sorry Mikey and Tina. Dre's party is invitation only
," she says. Tina says that she didn't want to go anyway, although Mikey still wants that address. "
Siri, just tell me
," he pleads. And in a funny bit of self-deprecation, Siri says, "
Sorry, I didn't get that
." The ad ends with the Apple and Beats logos on the screen.
Apple's $3 billion pick up of Beats is the largest acquisition in company history. Earlier in the week, it was announced that
Apple is planning on laying off 200 people from Beats
, which represents 40% of the company's pre-merger head count. Meanwhile, Beats co-founders Jimmy Iovine and Dr. Dre are
both expected to get some sort of senior title at Cupertino
.
We now have embedded the video for your viewing pleasure. Enjoy!
source:
@beatsbydre
,
9 to 5 Channel
via
AppleInsider