Apple unveils colorful new mix of Apple Watch Series 3 & 4 bands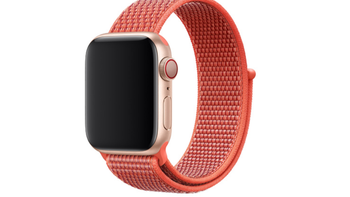 Alongside the announcement of the new Apple Watch Series 4 earlier today, Apple also unveiled a new range of Apple Watch bands.

As is typically the case with Apple's September event, the company has announced a mix of colors and new styles. Despite the larger sizes of Apple's new offerings, though, bands are compatible with either the older 38mm and the new 40mm devices, or the larger 42mm and 44mm offerings.

Starting off with some of the more basic entries, Apple's Sport Band is now offered in Nectarine, Blue Horizon, and Lavender Gray. Similarly, the Sport Loop will also be available to purchase in Nectarine, alongside the new Cape Cod Blue, Indigo, Hibiscus, and Storm Gray hues.

These offerings are then complemented by a new Stainless Steel Milanese Loop that is available in Gold, and a significantly-expanded Leather range. Specifically, both the Loop band is now available in Forest Green and Cape Cod Blue. Likewise, the Buckle strap will be available to purchase in Peony Pink and Product (RED), as well as the previously mentioned tones. Separately, Apple has also expanded its Hermès range of leather bands to include new Single Tour and Double Tour bands that use three different tone and can be purchased in two different combinates: Bordeaux/Rose Extrême/Rose or Indigo/Craie/Orange Swift.

For those interested in acquiring one of Apple's new bands, the Sport Band and Sport Loop cost $49 each, while Milanese Loops, Leather Loops, and Leather Buckles will all set customers back $149. However, pushing prices to the limits are once again Apple's Hermès which cost $339 for the Single Tour bands and $489 for the Double Tour ones.