Apple will replace this major defect for free on certain Apple Watch Series 2 and Series 3 models
4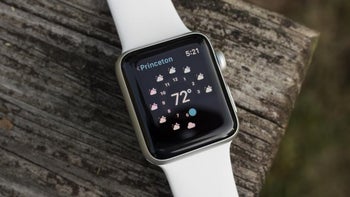 Apple announced today a free screen replacement program for
Apple Watch
Series 2 and Series 3 models with a cracked display. The program is being offered to aluminum models only to fix a crack that it says appears "under very rare circumstances," and forms along the screen's rounded
edge
. Apple says that the crack can begin on one side of the screen and continue around the display.
Check the chart that accompanies this article to see if your Apple Watch is included in the list. If it is, and your watch has a cracked display similar to the illustrations below, you are eligible for a free screen replacement from Apple. To take advantage of the company's offer, make an appointment to bring your Apple Watch into the Apple Store or visit an authorized service provider. You can also contact Apple Support to set up mail-in repair service for your watch.
Before you send your Apple Watch through the mail, you will need to unpair it from your iPhone; once the process is started, your handset will attempt to create a backup of your Apple Watch. This will make it easy to restore the timepiece when you receive it after the screen is repaired. To unpair your Apple Watch, keep it and your iPhone close together. Open the Apple Watch app on the iPhone and tap the My Watch tab. After writing the watch name at the top of the display, tap on the info button (the "i" inside a circle) next to the device you want to unpair. Tap on Unpair Apple Watch. If your damaged Apple Watch is a Series 3 model with GPS + Cellular, tap Remove (Carrier) Plan. Enter your Apple ID password and tap again to confirm. You can also remove your watch band before mailing in the device. Apple says that the repaired watch will be returned to you in approximately five days.

The next iteration of the Apple Watch could be unveiled on September 10th

The Apple Watch has been a huge success for the company and is the top-selling smartwatch in the world. For the company's fiscal third-quarter covering the period from April through June, Apple's wearables unit was the star. That division, which includes the Apple Watch and the wireless Bluetooth
AirPods
, saw its revenues soar 48.3% to $5.53 billion from the $3.73. billion it grossed during the same quarter last year.
On September 10th, Apple will hold its next new product event during which it is expected to unveil the 2019 iPhone models. At that event, the next iteration of the Apple Watch is supposed to show its (watch) face. Last week, we passed along a photo that claims
to give us our first look at the Apple Watch Series 5
. While the design will remain unchanged from the current Series 4 model, another leak revealed that the upcoming Apple Watch
will be available in titanium and ceramic casings
for both 40mm and 44mm case sizes.