Familiar complaint about the Apple Watch surfaces again in new lawsuit
5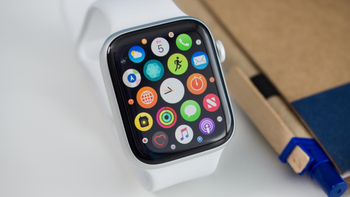 Apple has certainly been a courtroom presence lately, either getting sued by Qualcomm or suing the chip maker. It escaped getting hit with an exclusion ban that would have prevented certain iPhone models from being imported into the states but was also found to have infringed on a number of Qualcomm patents. But these are industry lawsuits; this week Apple was sued by one of its customers over a familiar problem with the
Apple Watch
.
The lawsuit was filed in the U.S. District Court for New Jersey
(via
MacRumors
) by one Gina Priano-Keyser. She alleges that an Apple Watch series 3 purchased in October 2017 started falling apart in July 2018. Priano-Keyser says that the screen on her Apple Watch detached from the rest of the device while she was charging it, resulting in a "long deep, jagged crack" on the bottom of the screen. She then did what anyone with a broken Apple device would do. She headed to the local Apple Store and sidled up to the Genius Bar only to be told that her watch would not be covered by the warranty. If she wanted to repair the screen, it would cost her $229. Her daughter snapped the screen back into place, but the
timepiece has been unusable since the incident occurred.

The suit requests that the court certify it as a Class Action. This means that residents of New Jersey who own or once owned the Apple Watch Series 1, Series 2, and Series 3 can join the suit, as long as they purchased their Apple Watch in New Jersey.
The plaintiff says that Apple should have known about the dangers that the swollen batteries could cause. The shattered and detached screens caused some users to suffer cuts and burns. The suit cites more than a dozen similar incidents that were posted over several years on the Apple Support Communities website.
Previous Class Action suit related to bloated Apple Watch batteries was dismissed by the judge

The law firm behind the suit, Shepherd, Finkelman, Miller & Shah, LLP, filed a similar Class Action suit in California back in June 2018. The suit asked for damages related to swollen Apple Watch batteries but was tossed by Judge Lucy Koh. The judge said that while the lawsuit described the damage that the Apple Watch screen suffered, it didn't mention a cause. As a result, Judge Koh said that the filing was "vague" and dismissed the case. To prevent the new suit from being tossed, the complaint notes that the problem with the Apple Watch screen was the result of an aging or defective battery or a problem with an internal component that regulates the temperature of the battery.
"Upon information and belief, the Defect is caused by aging or otherwise faulty li-on batteries, or by defective internal components of the Watches that regulate temperature, electrical currents, charging, and other mechanisms that could affect the Watches' li-on batteries."-Gina Priano-Keyser v. Apple
Priano-Keyser is seeking damages for herself and the class that will compensate them for losses they sustained as a result of "Apple's unlawful conduct." In addition, the plaintiff and the class members request that Apple return all monies received from them, and asks for the maximum amount of pre and post-judgment interest. The suit also asks that the court prevent Apple from continuing to engage in the behavior mentioned in the suit.
>