Apple Store is down ahead of iPad 3 announcement
3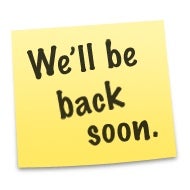 Surprised by the fact that
the Apple Store is down
? You shouldn't be. After all, that phenomenon occurs each time Apple is about to make a major announcement, and today is no exception. Of course, we are all expecting for the latest and greatest iPad to date to be unveiled at an official Apple event, which is to kick off in a few short hours. For the time being, however, all that we the Apple Store has to show is a little yellow note saying:
"We'll be back soon."
So, what will the iPad 3, or iPad HD, bring? Nobody knows for sure, but a high resolution display is expected, along with a faster processor, better cameras, more memory, and who knows, may be even LTE versions are to be announced as well. The Apple event is scheduled for 10:00AM Pacific time, or 1:00PM if you live on the east coast, so stay tuned to our coverage if you want to know more.