Apple HomePod surfaces in California and China during employee testing of the smart speaker?
3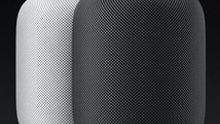 Apple's version of the smart speaker, the Apple HomePod, is expected to be launched in December. Apple is hoping that the launch doesn't come too late to capture some holiday sales. The device, made up of a speaker and the virtual personal assistant Siri, will take on the product that created the category, the Alexa-powered Amazon Echo. Other smart speakers that will compete with the HomePod include the Google Home, the upcoming Cortana powered Microsoft Invoke, the just announced Sony smart speaker (powered by Google Assistant) and a unit being prepped by Samsung that will include AI assistant Bixby.
While the Apple HomePod isn't supposed to see the light of day until December, a picture of the device taken in China was discovered recently on social media. The HomePod, in white, is seen sitting on a marble counter with a power cord by its side. A nondescript white box can be seen in the background. Is this a legitimate HomePod, or is it a cheap Chinese counterfeit? It just might be the real thing as Apple is apparently having employees test its smart speaker.
Just last Thursday, Andreessen Horowitz venture capitalist Benedict Evans spotted his iPhone trying to connect with a HomePod, and he took a screenshot revealing an iOS Control Center card showing media output options for the iPlayer BBC Radio app. Like other smart speakers, the HomePod can stream music, control smart appliances, forecast the weather, announce sports scores, stock prices and news headlines.
With a premium mesh covered speaker carrying 7-tweeters and 6-microphones, the Apple HomePod will retail for $349. Apple is expected to unveil the 2017 iPhone line on September 12th, and we could learn more about the HomePod during this event, including its specific launch date.
source:
@BenedictEvans
via
AppleInsider