App deal: most popular iOS games are now cheaper, EA discounts tons of iOS titles by up to 85%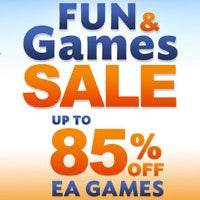 If you're looking for quality apps for a low price, now seems like the best time to buy. EA, one of the biggest app maker for iOS, along with other gaming studios have slashed prices on some of the most popular iPhone and iPad titles by as much as 85%.
All of the discounts, are a limited-time affair, and most seem to be somehow connected to the upcoming Memorial day this Monday, May 28th, so you'd better act quickly while they last.
The games you'd probably want to snatch right away are:
EA on the other hand is bringing tons of game discounts. Here are some of the titles you can get for cheap:
Flight Control Rocket: $0.99
Mass Effect Infiltrator: $2.99
Tetris: $0.99
FIFA 12: $1.99
Shift 2 Unleashed: $0.99
Dead Space: $0.99
Need for Speed: Hot Pursuit: $0.99
Reckless Racing: $0.99
Mirror's Edge: $0.99
Awesome, isn't it? Which ones are you getting? Let us know in the comments below.