App Store approaching 25 billion app downloads
1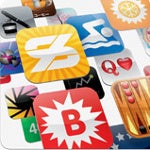 Apple is counting down the moments until its
App Store registers its 25 billionth download
and it has even transformed its main web page with a clock counting the number of downloads.
And while you might be impressed with the growth, it wouldn't hurt downloading some kind of an app soon - who knows, your download might turn out to be the lucky 25 billionth which
will get you $10,000
in the form of a special App Store Gift Card.
"As of today, nearly 25 billion apps have been downloaded worldwide. Which is almost as amazing as the apps themselves. So we want to say thanks. Download the 25 billionth app, and you could win a US$10,000 App Store Gift Card.* Just visit the App Store and download your best app yet," Apple thanked its customers.
Currently, the counter is approaching 24.923 billion, with a speed of what appears like 1,000 apps downloaded each three seconds, but it's more likely that the counter only illustrates the growth without actually perfectly reflecting downloads as they happen. In either case, you'd be terribly lucky to win this as the odds are not high.
The App Store is the biggest application catalog on the web. Just a couple of months ago, Google celebrated 10 billion downloads on its Android Market with a huge 10-day app sale, and now that is dwarfed nearly two-fold by the App Store.
Thanks, vamshi!