Global app revenue surpasses $34 billion during H1 2018, App Store continues to lead
19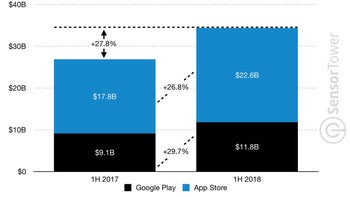 During the first six months of 2018, global app revenues saw a year-on-year increase of 27.8%, reaching a total of $34.4 billion. And, unsurprisingly, Apple's
App Store
accounted for a pretty big chunk of the total.

Of the revenue generated during the first half of the year, over 65% of it came from the App Store, with its total sales reaching $22.6 billion during the period. For comparison, over the same period in 2017, Apple generated $17.8 billion in revenue through App purchases, thus meaning the service has seen a total growth of 26.8% so far this year. Interestingly, though, it appears Google's equivalent is performing even stronger. See, although total revenues still pale in comparison to those generated through the App Store, the Google Play Store saw year-on-year growth of nearly 30% during the period to $11.8 Billion.
In regards to which apps generated the highest amount of revenue, Gaming was undeniably the most popular segment. In fact, it generated $26.6 billion of the total amount, with Honor of Kings from Tencent proving to be the most popular one. Outside of this category, though,
Netflix
takes the crown and is followed close behind by popular dating app Tinder and Tencent Video.
On one separate note aside from the revenue, it's also worth noting that Facebook undeniably dominated the list of most popular apps in terms of installs. In fact, messaging platforms
WhatsApp
and Messenger took 1st and 2nd place, while social networks Facebook and Instagram took 3rd and 4th respectively.