Another three Samsung models with touchscreens
4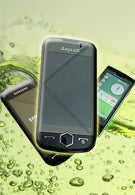 The touchscreen mania continues. The most interesting models by Samsung at the MWC weren't enough. Now here are leaked photos that reveal three unannounced models.

On the firsts place (judging by look) is the S8000. It looks like a new addition to the manufacturer's Style series. It will definitely have a 5-megapixel camera with autofocus and a dual LED flash. We suppose that it will utilize the TouchWiz interface, but the use of the big oddly-shaped button below the display remains a mystery. Is this a back button as in the S8300 UltraTOUCH? We expect a WQVA resolution of the screen and 3.2 inches like in the first OMNIA, but who knows.
The M8000 looks like the S8000's twin brother, which has chosen the path of music. Its design is more youthful (with colorful band) and resembles the Nokia 5800 XpressMusic. Two things grab our attention – it has a 3.5mm jack and a button for the multimedia menu, placed right above the screen. Yes, just like the above-mentioned Nokia. Maybe the M8000 will be powered by Symbian S60 5th Edition? It's too early to say. We also don't know anything about the camera's resolution. Hope that we'll see the BeatDJ application from the BEAT DJ here.

B7300
. Just like the previous two models, it doesn't have a hardware keyboard, which has allowed for a nice and sleek design. The TouchWiz interface is also here and we wish that it would be implemented better. What we know about this phone is that it will have a 3-megapixel camera with autofocus, microUSB and a microSD slot.
This is all for now. We will keep you informed for the latest news about these handsets. Unfortunately, we do not know which markets they are intended for. We certainly hope that they won't be only for Asia.