Angry Birds to arrive on WP7, a 3D version also coming
2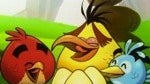 "It's all in the works", said Rovio Mobile's Peter Vesterbacka, when asked by Pocket-lint are WP and 3D versions of the popular Angry Birds game on the horizon.
For
a long time
it has been speculated that Rovio Mobile's game is to land on Microsoft's mobile platform, and this would certainly make sense - especially if you take into account that in the last few months the Redmond-based company was busy to adopt a large portion of the most popular smartphone apps for its WP7 OS.
"Let's just say, Microsoft has a lot of lawyers", was Peter Vesterbacka's response to the question why Angry Birds is not present on WP, presumably hinting Microsoft is holding back the release of Angry Birds for its mobile platform.
It was also confirmed that a 3D version of this massively popular game is in the making, but it's yet unknown when it will be launched.
Angry Birds is such a huge success that an animated feature-length movie called
Rio
is to debut some time in the future.
source:
Pocket-lint