Android sees a substantial growth in China whereas Symbian is losing share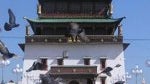 Globally, you can't deny the fact that the Chinese market plays a key role in how the mobile landscape is modified as it can seemingly adjust the hand of power towards one company versus another. Some may find it surprising, but a recent report from analyst Morgan Keegan's Travis McCourt points to the telling tale that
Google's Android platform is tops in China
– which is standing at the top of the hill looking down at Nokia's Symbian, Apple's iOS powered iPhone and RIM's BlackBerry.
In fact, the Chinese smartphone market saw a dramatic increase of
200 percent year over year
as consumers bought approximately 8 to 10 million smartphones last quarter alone – which is up 2 to 3 million versus the same time last year. Furthermore, Google's Android is sitting at the top of the heap as it consisted 50 percent of the smartphones sold last quarter.
Conversely, things aren't looking too well for Nokia seeing that they're
rapidly losing ground
to the competition as they held a 70 percent claim in the Chinese smartphone market a year ago.
However
, they're still continuing to output growing revenues despite the rapid loss in share.
Lastly, Apple and RIM managed to sell
less than 500,000 units last quarter
, which for some, view as disappointing. For RIM, their products are strictly being sold to the enterprises/government in China which obviously limits them in cranking out numbers they're potentially capable of achieving. And for Apple, it's believed that sales will begin to roll seeing that China Unicom lowered its pricing, Wi-Fi has been recently added, and that the iPhone 4 was only recently launched in late September.
Naturally, whatever controls the Chinese market will most likely have a substantial footprint on the worldwide scale.
via
Fortune