Android now at 30% of tablet market
99+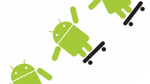 Statistics from Strategy Analytics are showing that Android tablets are making just as fast a move in market share as Android phones had before. New statistics show that Android tablets held 30% of the market share in Q2 of this year, as compared to just 2.9% of the market in the same quarter last year.
Of course, in Q2 of last year, there were really no big name Android tablets on the market. The Samsung Galaxy Tab, which really started the Android tablet wave, wasn't released until November 2010. So, in Q2 the Android tablet market was made up mostly of devices that had no access to Google Apps or the Android Market, which have never had that much commercial success.
Unfortunately, the statistics also don't make any distinction between Android tablets using phone versions of Android, and those running the official tablet version, Honeycomb. Given that the latest numbers from Google say that Honeycomb is still less than 1% of the Android OS distribution, obviously the majority of Android tablets in the market are running what is really the phone version of the OS.
How do you think the numbers will look at this time next year?
source:
BGR
Recommended Stories