Android 4.2.2 update starts pushing out January 29th to the AT&T HTC One X
1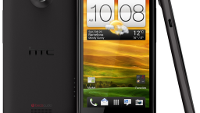 A little more than a week ago, the AT&T
HTC One X+
received Android 4.2.2 plus Sense 5.0
in an update. But what about those poor guys and gals that rushed to buy the
HTC One X
, never dreaming that there might be a "+" version coming? Are they destined to go through life without knowing the joys of BlinkFeed, or the new photo gallery?
Not a chance. A tweet from @moversi, who happens to be the Executive Director, Product Management at HTC, reveals that the Taiwan based manufacturer has received technical approval and is now aiming at a January 29th launch date for the update for the AT&T branded HTC One X. As is our wont, we'd like to remind you that the update usually gets sent out OTA in waves. So if you wake up on January 30th with your phone still sitting on Android 4.1, please don't drink a whole bottle of Listerine. The update will eventually reach your phone.
Besides the news and social media feeds from BlinkFeed and the new photo gallery, you should expect to receive Music Channel and Miracast in addition to the updated user interface. It will be as though you're sporting a brand new phone.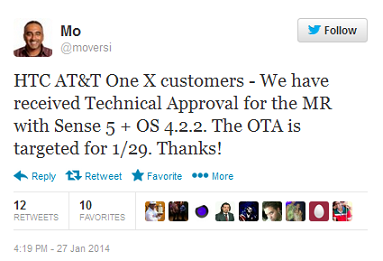 Tweet from HTC executive says Android 4.2.2 is coming soon to the AT&T HTC One X
source:
@moversi
via
AndroidCentral