Amazon to release its Kindle Fire tablet today, second tablet may be coming Jan 2012
1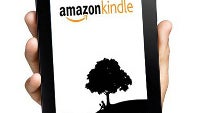 Today is
Amazon's big tablet day
. The company is expected to launch the Amazon Fire tablet, but even before it has rolled out, rumors are already giving an exact date for a follow-up allegedly arriving in January 2012. The second Amazon Android tablet will be the company's serious bid in the tablet segment with today's announcement merely "a stopgap" designed to please Holiday season shoppers.
The reason for such a weird product cycle? Allegedly, it's a delay in the first-gen Amazon tablet.
Except for that, summing up expectations and rumors for the tablet, we're looking at a 7-incher similar to RIM's PlayBook, but with a much different software. The tablet will still possibly run Android, but with so many customizations that it'll be hardly anything you've seen before.
One of the biggest advantages for the upcoming Kindle Fire is its price tag, expected to be only $250 or less. The release date seems set for late November, but we'll have a confirmation within less than an hour. The Amazon event kicks off in a couple of minutes, so stay tuned.