Amazon UK has the LG Optimus 3D listed with an expected release date of June 20
1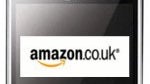 As we continue to push further into the scorching period of mid-summer, some out there are still curious to know when we'll finally hear an official word regarding the
release of the LG Optimus 3D
. Already, we've seen the handset
listed and sold on eBay
, but now we find it listed over on
Amazon UK
with an interesting piece of information attached to it.
From the looks of it all, the
SIM-free
handset is available for pre-order through Amazon UK, but more importantly, it's graced with an
expected release date of June 20
. Needless to say, it's super
pricey
right now at
£600
($980), but nonetheless, it's one handset that's sure to impress many with its dual-core processor, glasses-free 3D display, and its ability to capture 3D videos as well.

Obviously, the anticipated release date can always change unexpectedly, however, its arrival seemingly falls in line to what T-Mobile UK and Three are aiming for – which is of course, a release time period of June and July respectively.
source:
Amazon UK
via
Android Central