Alcatel One Touch Tab 7HD hands-on
0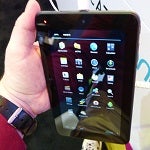 Alcatel's new One Touch line-up includes a number of tablets, among them, the Tab 7HD which brings respectable specs in a lightweight package.
The screen measures 7-inches with WXGA 1280x800 resolution, which belies its HD name in a way, but the colors and performance were fine with the floor model we were looking at. Inside, Android 4.1 Jelly Bean runs through an ARM Cortex A9 dual-core 1.6GHz processor. That battery was running low on this display unit even though it was plugged in, making us think that the cable inside the display got pulled or something, when the Tab 7HD was on, there was no lag or anything.
There is 1GB of RAM on board along with 8GB of storage which is expandable via microSD. There are basic cameras installed, a 2MP main camera and a 0.3MP front facing camera. There is an HDMI port on the side which would come in handy for those that want to feed video somewhere. Connectivity for the Tab 7HD is made via Wi-Fi 802.11 b/g/n. The bezel is wide, but that makes it easy to hold, not that it is a problem with this tablet as it is pretty light anyway.
Just like everything else on display, no pricing or availability was announced for the Tab 7HD, though there was discussion that it might be available to order through Google Play at one point.