Adidas miCoach Fit Smart could be among the first Google Fit wearables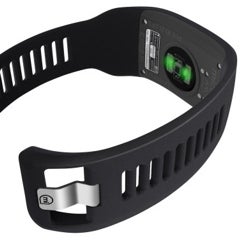 The new
Google Fit platform
was officially introduced yesterday at Google I/O, but for now there aren't too many details about it. Still, we know that Google Fit will "let users control their fitness data", while enabling developers to "build smarter apps", and manufacturers to "focus on creating amazing devices."
While Google didn't announce any devices that will use Google Fit, one of the first ones to do it may be the Adidas miCoach Fit Smart. This is a new
fitness tracker
that was spotted online thanks to retailer Keller Sports. The miCoach Fit Smart also appeared at the FCC, and Adidas already trademarked its name.
Reportedly, the miCoach Fit Smart will be able to gather information such as heart rate, calories burned, steps taken, speed, and so on. According to the FCC, the device features Bluetooth 4.0 LTE, and we assume that this is what it'll use to communicate with your smartphone, or tablet.
The Adidas miCoach Fit Smart doesn't have a regular display, instead offering an LED dot screen. Its heart rate sensor is visible on the back.
Although we can't confirm that the miCoach Fit Smart will use Google Fit, Adidas is one of the new platform's partners, and the device's name is pretty suggestive, too. So we say that this
has
to be one of the first Google Fit wearables (time will tell if we're right). We don't know when the Adidas miCoach Fit Smart will be released, but we hope to find out more about this soon.
sources:
Keller Sports
,
Trademarkia
,
FCC
via
Engadget