AdDuplex to give away three new Windows Phones every month
6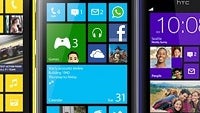 For the next year, AdDuplex, a service that drives ads (and revenue) to apps built for Windows Phone, will be giving away three devices every month as part of contest.
Naturally, the contest is designed for developers, but the rules are simple. The prizes, at least for the first month's run, are okay. The way it is set up, two of the three give-aways are simply for apps published, while the third is a prize for a "special challenge."
For the first month, the two main give-aways are one
Nokia Lumia 920
and a
Windows Phone 8X by HTC
. The special prize is a
Nokia Lumia 1520
. To participate, you have to have an AdDuplex account. Then, you need to publish an application during the month of March and you are automatically entered in the drawing. The app needs to participate in the AdDuplex cross promotion network which promotes developer's apps through serving ads on other apps.
The "special challenge" for March is for you, the developer, to provide a testimonial to AdDuplex about how the service has helped to promote your apps. With that, you are entered into the running to win a Lumia 1520 who will be selected by a group of folks at AdDuplex.
If by chance you do not want the device, the winner will have the option to accept a $1,000 ad credit on their AdDuplex account. Whichever way you go, be prepared to work out some identification details, export eligibility for the government people in Lithuania, where AdDuplex is based.
So, get to developing and make something good. Tell us what you win.
sources:
AdDuplex
via
WMPoweruser