AT&T has the nation's fastest wireless network according to PC Magazine
This article contains unofficial information.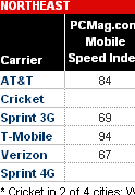 Trying to answer the age-old question, which U.S. carrier is the fastest, PC Magazine came up with AT&T as the winner. Of course, there were some parameters to the test that if changed, could have resulted in a different winner. PC Magazine said that voice quality, dropped calls and coverage area were not part of the test. Right away, this favors AT&T. The carrier has had problems with dropped calls and voice quality, and its 3G coverage doesn't come close to reaching the amount of people that Verizon Wireless does with its 3G pipelines. What is being tested and measured is the mobile internet. In 20 cities, 1,000 rounds of tests were run which is the equivalent of 10,000 individual tests. At the end of the day, AT&T was the overall winner and also was the victor in regions such as the Southern, Central and Western part of the U.S. Two cities, Las Vegas and Philadelphia, had to be tossed from the test results because of technical problems. Keep in mind that as PC Mag was editing this piece, T-Mobile rolled out the faster HSPA+ service in some more locations. But that will have to wait for the next time. For now, AT&T has the nation's fastest mobile network according to PC Magazine. As for being the most robust network, well, that's another test for another day.
Nationally, AT&T was first followed by T-Mobile, Verizon and Sprint 3G. In the Northeast, the HSPA+ rollout by T-Mobile in New York City helped the carrier grab the top spot in the region, followed by AT&T, Sprint 3G and Verizon. AT&T took the title in the Southeast with T-Mobile in second and Verizon and Sprint 3G tied for third. In the Central, it was more of the same with AT&T beating out T-Mobile as Verizon and Sprint 3G again tied for third. Finally, out West, AT&T took the top spot followed by Verizon with Sprint 3G third and T-Mobile last. If you're wondering where Sprint 4G is, while Cricket and WiMax did get tested in the small areas that they currently service, both did not cover enough area to be included in the final rankings of each region.
source:
PCMagazine