ASUS Padfone now available in the States via Negri Electronics for $859.50
20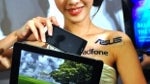 ASUS has offered its Transformer tablets that can change from a tablet to a docked laptop-type device. Now its most ambitious transforming device is available in the U.S. as Negri Electronics is making available the international version of the ASUS Padfone for $859.50. The deal also includes the Padfone Station, the accessory that turns the phone into a tablet. The Padfone was originally expected to launch last month, but ASUS Indonesia told the world that a
shortage of the Qualcomm S4 processor
was holding back the release of the device.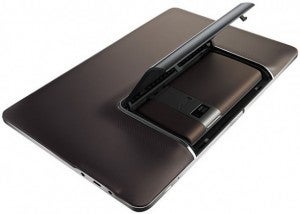 Insert the Padfone into the Station dock to turn it into a tablet
The ASUS Padfone has a 4.3 inch Super AMOLED display with qHD resolution and a pixel density of 256ppi. We know that the dual-core 1.5GHz Qualcomm snapdragon S4 CPU is under the hood with the Adreno 225 GPU running the graphics side of things. 1GB of RAM is onboard. On back you will find an 8MP camera with LED flash and f/2.2 aperture with videocam functionality. In front, the unit has a VGA front-facing shooter. There is 16GB of storage that can be expanded using the microSD slot. Android 4.0 is installed out of the box.
The Asus Padfone also comes with the Padfone Station. This tablet shell allows you to
slip your phone into the dock and turn the Station into an Android 4.0 tablet
. The Station comes with a 6,600mAh battery that also charges your phone at the same time it powers the Station. There is also a 3.5mm headset jack, mini USB port and a micro HDMI slot. And in case you are worried about using the phone's antenna to grab signals for your tablet, the Station has antennas for phone calls and for GPS. What the $859.50 doesn't buy is the Tablet Dock which adds a physical QWERTY keyboard to your Padfone Station, transforming it from a tablet to a laptop type device.
If you're the type that needs a smartphone, tablet and laptop, the ASUS Padfone offers you all three, driven by just one smartphone. If you're interested in ordering the device, click on the sourcelink. It seems like a great deal. After all, if you bought a Android 4.0 smartphone, tablet and a laptop, wouldn't you
pay well over $859.50 for all three?
source:
NegriElectronics
via
Phandroid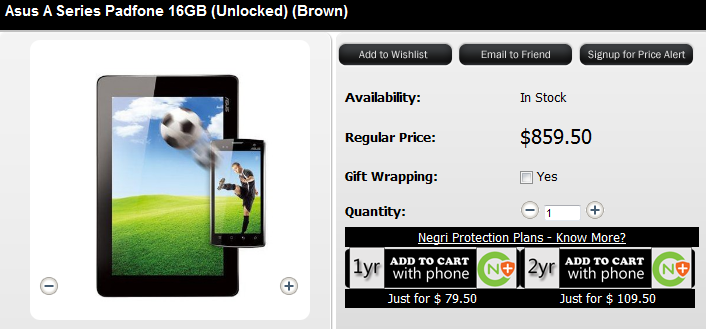 The ASUS Padfone can be purchased now from Negri Electronics