AOKP, MIUI get first official Android Jelly Bean releases
11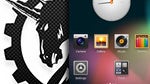 If you are an Android power user that likes to load custom ROMs onto your phone, today is turning out to be a pretty great day for you. Popular ROM makers AOKP and MIUI both have released their first official ROMs based on Android 4.1 Jellybean. That brings buttery smoothness to some of the most popular after-market versions of Android out there. While several ROM makers have been releasing very preliminary builds for a couple of weeks, these two have a level of stability and feature-richness that those unofficial releases lacked.
MIUI feels a bit like basic Android with aesthetic touches borrowed from both Samsung's Touchwiz and Apple's iOS (see below). The initial release of MIUI is just for the Samsung Galaxy Nexus (all models) and the Google Nexus 7 tablet, although we expect more devices to be supported soon.
AOKP's first official release is currently compiling so we don't know which phones are in the initial batch, but if their past in any indication they will support several devices in short order. AOKP has more of a stock Android look, but layers in numerous ways to tweak the phone to your liking, including built-in notification toggles, navigation bar modifications, and the ability to control the audio level independently for each input (e.g. media, phone calls, etc.), as well as custom theming so you can make your device look "just so".
Both releases are essentially 1.0 versions, so they should be stable enough to use as a daily driver, but if you are the type that likes having every last bug squished you may want to wait for a few more releases. Also of note, CyanogenMod has just started doing nightly beta releases of CM10; CyanogenMod has been the most popular custom ROM so far, and with nightlies having started it may only be a matter of weeks before they have an official release as well.
So choose your custom ROM carefully – and as always, if you are not comfortable hacking your phone (and accepting responsibilities if you screw it up) then just hang tight. Most of the newer phone and tablet models should see Jelly Bean in the coming months. And if you are new to MIUI, some shots of the interface can be seen in the gallery below.
source:
AOKP
,
MIUI
, and images in gallery via Droid-Life
1
,
2
Recommended Stories