ABC News releases video clips of interview with Tim Cook discussing court order
23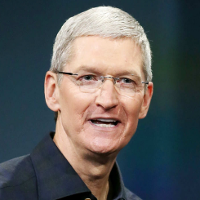 ABC News has posted a couple of video clips relating to an interview with Apple CEO Tim Cook that it will broadcast as an exclusive tonight. Cook will be talking to David Muir about the company's decision not to unlock the
Apple iPhone 5c
belonging to terrorist Syed Farook. The only way that Apple can unlock the phone,
is to build a new version of iOS
.
But Apple's CEO is quick to tell the country via ABC News that this is not a viable solution. "This is not something that we would create. This would be bad for America," Tim Cook said. "It would also set a precedent that I believe many people in America would be offended by." He added that it would have been better for Apple and the government to have had more "dialogue" between them before the issue became public.
Meanwhile, the
New York Times
is reporting that Apple is working on a new version of the iPhone that cannot be unlocked, even with a new, unique version of iOS. This new iPhone would force the government to come up with new ways to try to force Apple to get inside the device if law enforcement officials deemed it necessary to do so.
Despite Apple's refusal to unlock the phone used by the dead terrorist, the government is at fault for changing the Apple ID passcode belonging to the device. Had that not happened, Apple could have backed up the phone to iCloud using a Wi-Fi network, and would have been able to turn over all of the information requested by the court order.
ABC Breaking News
|
Latest News Videos
ABC Breaking News
|
Latest News Videos
source:
NYTimes
,
AppleInsider