Cook says software being requested by court does not presently exist
80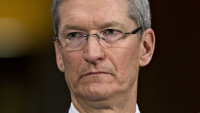 Yesterday, we told you that
a federal judge had ordered Apple to open up the Apple iPhone 5c that was given to deceased terrorist Syed Farook
by by his employer, the San Bernardino County Department of Public Health. Today, Apple CEO Tim Cook said opening an iPhone would "threaten the security of our customers."
Farook and his wife, Tashfeen Malik, killed 14 individuals on December 2nd during an event held by Malik's employer. The pair were killed after engaging the police in a shootout in the middle of a San Bernardino street. Law enforcement officials believe that there could be information inside Farook's iPhone 5c that could help them determine if the couple had any help in planning the attack, what other targets were being looked at, and where the pair visited prior to December 2nd. The feds are hopeful that other information could be inside the handset that could help them gather as much information as possible on the couple's connections.
Apple is being asked to provide software to circumvent the security system on the iPhone 5c in question, including the auto-erase feature that wipes the data and content from an iPhone if the passcode is incorrectly entered ten times. Cook, in a letter to Apple customers, wrote that such software does not presently exist. The executive added that he was concerned that if such software was built, it could end up in the wrong hands threatening the security of all iPhone users.
Cook added that Apple had turned over to law enforcement officials all "data that's in our possession," but he made it clear that Apple will not provide a backdoor for the iPhone.
"We have great respect for the professionals at the FBI, and we believe their intentions are good. Up to this point, we have done everything that is both within our power and within the law to help them. But now the U.S. government has asked us for something we simply do not have, and something we consider too dangerous to create. They have asked us to build a backdoor to the iPhone.

Specifically, the FBI wants us to make a new version of the iPhone operating system, circumventing several important security features, and install it on an iPhone recovered during the investigation. In the wrong hands, this software — which does not exist today — would have the potential to unlock any iPhone in someone's physical possession.

The FBI may use different words to describe this tool, but make no mistake: Building a version of iOS that bypasses security in this way would undeniably create a backdoor. And while the government may argue that its use would be limited to this case, there is no way to guarantee such control.

Cook also criticized authorities for using the All Writs Act and not Congressional legislation to make the request, which he labeled "a dangerous precedent" that would seriously weaken Apple's security system:

The government would have us remove security features and add new capabilities to the operating system, allowing a passcode to be input electronically. This would make it easier to unlock an iPhone by "brute force," trying thousands or millions of combinations with the speed of a modern computer.

The implications of the government's demands are chilling. If the government can use the All Writs Act to make it easier to unlock your iPhone, it would have the power to reach into anyone's device to capture their data. The government could extend this breach of privacy and demand that Apple build surveillance software to intercept your messages, access your health records or financial data, track your location, or even access your phone's microphone or camera without your knowledge."-Tim Cook's letter to Apple customers
You can read a PDF file containing the court order compelling Apple to assist in the search of Farook's rented Lexus, by clicking on the sourcelink.
source:
Documentcloud
(PDF),
TechCrunch
Recommended Stories