A few interesting sights around Microsoft Build 2014
3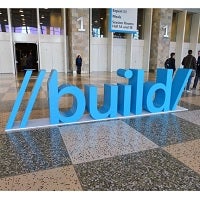 Microsoft's Build conference is engaging and, one could argue, a bit laid back at the same time. If you saw our coverage from Google I/O last year, the comparison is night-and-day. Not that one is better than the other, but the relative tempos are dramatically different.
With Build, the developer sessions are the focus, with the open convention area left a bit more open for people to get around. Throughout, there is coffee, tea, soft drinks available. There are activities, but they are hard-core developer driven.
Among them, the "Code Challenge," where devs were lining up (and waiting) for a chance to get a crack at coding through any number of 14 tasks to be eligible to win a new Nokia Lumia 1520 (plus bragging rights). There is also the Space Selfie, an exhibit that shows off Nokia's new imaging SDK.
Another set-up had a number of Microsoft Surface tablets connected to 3-D printers which were cranking out all sorts of neat designs. The finished products, while limited to a single color, had some neat detail to them.
Motion
interaction was on display too. Developers explored new ways to interact and create things virtually within their midst. This is going to be interesting to see progress in gaming environments as well as how we simply interact via video chat.
If you watched the live video stream of the Keynote address on the first day of the conference, you may remember seeing Microsoft VP Joe Belfiore dancing on what was a stage-mounted "piano" keyboard. That keyboard was out for all to play with during the conference, showing off new silicon from Intel, and of course, it was built on Windows.
Microsoft Build 2014 kicked off with a bang, even though much of what was announced we were already privy to. While the Windows Phone and Windows updates were the headliners, let us also not forget the big strides Microsoft is making in an effort to deliver the "Universal Windows App" experience whether it is on the phone, tablet, and desktop. From a user standpoint, that was really big news.
What, if anything, was your favorite part about build?
Around and about Microsoft Build 2014