6 leather cases for the Samsung Galaxy S6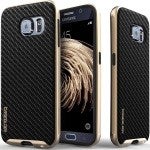 When it comes down to Galaxy S6 cases, leather is always a fine option. Be it faux leather or the genuine thing, it never fails to add a touch of class and feel good on the fingers, unless we're talking about a really cheap, poorly made case in which the premium GS6 certainly doesn't belong. That's why we choose six really nice cases that will suit owners of the Galaxy S6 looking for a warm, organic feel. Just beware of the folks joking you should have gotten the LG G4 if you wanted leather. Choosing a high-end smartphone is certainly no joke!
Anyway, here are six perfectly fine leather cases for the Galaxy S6. If you want to snag any of them, just tap the links in blue and they will take you straight to Amazon!