5 of the greatest outdoor, hiking, and camping apps for Android and iOS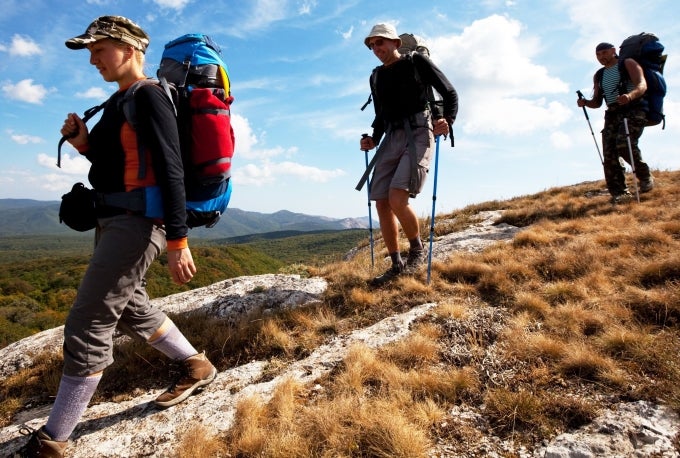 If you love hiking, camping, exploring trails and national parks, smartphone apps can be your guides and tools for just about everything short of lighting a fire by rubbing sticks. These five apps for Android and iOS devices will give you coordinates and ideas for the best trails and places around you, all the information you need to plan a trip, and tips on how to manage life in the wilderness. Most of them are available for free, and feature offline functionality so you won't be worried about going out of range. Enjoy!
Campgrounds
Camp Finder puts information for 19,000 campgrounds, RV parks and RV resorts in your pocket, letting you check camp sites, rates, amenities, camping discounts, contact details, photos and camping reviews to find the best campground, RV park, or RV resort for you. You can search by Name, City and State, or by Current location. Results can be filtered by distance, camping club discounts, amenities, policies, activities, and types.
You will be presented photos of the sites, laundry, restrooms, swimming pool, and other amenities. Favorite campgrounds and personal notes can be added to your Favorites list, complete with GPS coordinates and local directions. The app will also let alert you about fun outdoor events, scenic road trips, and what there is to see and do at National Parks. It will also provide many camping and RV tips, such as how to buy or rent an RV, what to take with you on tent camping trip, how to get WiFi on the road, and how to get a campsite at a National Park.
AllTrails
Looking for new trails to explore? AllTrails makes it easy to find the best trails to hike, bike, or run among more than 50,000 trails across North America. The app features a large collection of detailed outdoor information with maps, photos, and reviews curated by campers and mountain bikers. Hikes, mountain bike routes, and trail runs can be sorted by length, rating, and difficulty level, and filtered as dog friendly, kid, and wheelchair-friendly. Your activities can be uploaded to your account and shared with friends and family, and you can check out where your friends have been and which trails they loved or disliked. And by subscribing to AllTrails Pro, you will be able to download your maps for offline use, print them with customizable options (including scale, gridlines, paper size, datum and topographical layers), and draw custom routes.
Yonder
Yonder is a mobile community for the outdoors, made to connect people, places, and inspiring experiences. Simply launch Yonder and it will show you the places and experiences around you, with thousands of geo-located images and videos from around the globe. Users can search and browse a database of over 20,000 destinations and explore a list of 25 activities, as well as browse a news feed, explore a map of activities, and follow bikers, hikers, climbers, skiers and other adventurers from around the world.
Map My Hike
If you want to examine your hikes from a fitness angle, Map My Hike is a great app for doing so. It offers GPS hiking, walking, running, tracking workouts, and a calorie counter. The app can log over 600 different types of workouts (such as running, cycling, walking, and cross training) and record GPS-based activities to view detailed stats, as well as connect with over 400 wearables to import and analyze data. The Gear Tracker feature lets you add your athletic shoes and start tracking mileage, alerting you when it's time to get a new pair. You can also record GPS-based workouts with custom voice feedback for precise stats like pace, route, distance, calorie burn, elevation profile, and others.
SAS Survival Guide
Written by former SAS soldier and instructor, John "Lofty" Wiseman, the SAS Survival Guide brings you the original set of world-class survival skills and lets you take it anywhere with you. The app features the full text of the bestselling book (over 400 pages), 16 videos with survival tips from the author, and photos of animal tracks, knots, plants (edible, medicinal, and poisonous), sea creatures and snakes. Also included are a morse code signalling device, a 100+ question quiz to test yourself, a survival checklist, sun compass, extreme climate survival sections, and a comprehensive First Aid section. The app doesn't require an active internet connection to function, but videos and social sharing will not be available.
ALSO READ