5 of the finest online and offline navigation apps for Android and iOS
12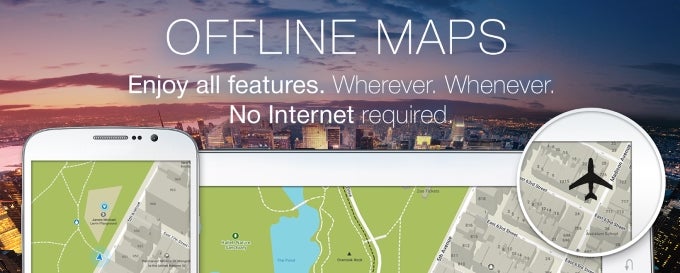 Heading out? It's time to choose a navigation app to keep you on track! But what if you are out someplace where there's no signal? Worry not, all of the navigation and mapping apps we've rounded up below let you use maps offline, and even download full maps, routes, and places data on your device.
In addition to navigation, most of these apps offer complete routes, live traffic information, community-added warnings, turn-by-turn navigation, social connectivity, and many other features to make your trip safer, faster, and more comfortable. These five apps are highly regarded and very popular, so pick the ones you like and trust them to work their magic.
HERE WeGo

HERE WeGo is a free app with detailed routes, turn-by-turn guidance and traffic information. It features recommendations for all the ways you can get around, so you can compare them and pick the one that suits you best. HERE WeGo tells you everything about your route, such as costs for tickets and taxi fares, traffic delays, and how flat or hilly your bike ride will be. There's turn-by-turn voice guidance for drivers, walkers, and public transport transfers. Of course, you can also choose to download maps so that HERE WeGo will keep working even if you don't have reception.






MAPS.ME

Maps.me features hiking trails and walking maps, map directions to specific locations, and the option to download any map for free. The app covers 345 countries and islands, and offline maps feature millions of discoverable points-of-interest, such as restaurants, tourist attractions and destinations, gas/petrol stations, ATM machines, metro/ subway stations, and others. There's also an innovative map data compression feature that makes MAPS.ME remarkably small, letting you save memory on your device.







Sygic GPS Navigation & Maps

Sygic GPS Navigation & Maps features 3D offline maps from TomTom, along with accurate door-to-door voice guided navigation and free map updates. There's live traffic monitoring, police radar and speed camera warnings, parking place suggestions, tourist attractions & pedestrian navigation. There's also the option of projecting heads-up display navigation onto the car's windshield. Offline maps support is a given, of course.







Waze

Waze is a large, community-based traffic and navigation app that lets you join drivers in your area who share real-time traffic & road info to save time, fuel and improve their daily commuting. Waze features live routing, community reported alerts, turn-by-turn navigation, live and offline maps, automatic rerouting, information on local places and businesses, and many other useful features.







komoot

komoot is geared towards the outdoor types with features such as online and offline maps, turn-by-turn navigation, and recommendations on hikes, cycling routes, and mountain bike trails. You can browse collections with hand-picked tours and highlights, recommendations for places and trails, tours tailored to your fitness level and sport preferences, and view characteristics like surface, difficulty, distance and elevation. You can also track your tours, add photos, invite participants, follow your friends and keep up with their outdoor adventures.






ALSO READ