5 of the best Android apps for speed camera and road hazard alerts
5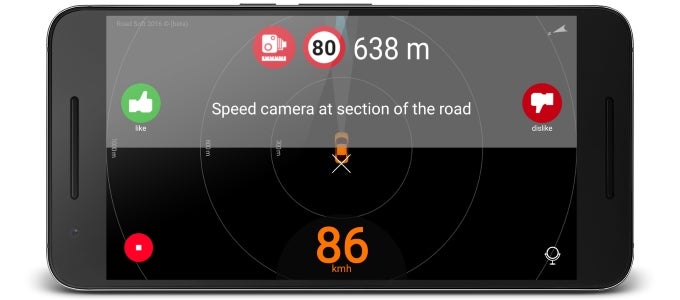 Having the intent to drive safely and responsibly is crucial, but it can only go so far if you aren't aware of the road's challenges. Ignorance or outright failure to obey speed cameras, traffic jams, dangerous curves, and driving limits can make you lose valuable time, money, and the pleasure of driving.
Luckily, those smart little computers in our pockets can do a fantastic job at alerting you about such "traps" on time, so that you can act accordingly and don't fall into their clutches. Grab any of these Android apps and give yourself peace of mind while behind the wheel. They cover roads and hazards all around the world and are kept up-to-date by communities of users in the millions.
CamSam
CamSam turns your smartphone into a speed camera alert system. The app boasts features such as real-time alerts for mobile radar "traps," a database of over 60.000 fixed speedcams worldwide, directional alerts for all fixed speed cams, visual and sound warnings, online/offline mode, distance and direction indications, and much more.
Radardroid Lite
Radardroid gives visual and audible warnings when any fixed or mobile speed camera in the app database is approached. The app's Pro version works as a background service, letting you use your favorite navigation app or listen to music on your phone while receiving alerts.
TomTom Speed Cameras
This app delivers timely alerts for all types of speed cameras (including fixed, mobile, and average speed) and traffic jams. The data is shared between and actualized by a community of over 5 million drivers. Fixed speed camera locations are verified by the TomTom moderation team as users deliver real-time mobile speed camera updates. The app does average speed calculation when driving in an average speed zone and issues warnings for slower-moving traffic on your route so you can brake safely. As the app is powered by TomTom Maps, it knows which road you are driving on, so it issues relevant alerts and accurate traffic information.
Sygic Speed Cameras & Traffic
Speed Cameras by Sygic covers all bases and then some. It tells the speed limit for the road you are traveling on, gives real-time alerts for mobile radar traps and fixed speed cameras location, tracks your mileage with useful driving stats, does trip logs, and it offers tons more driving functionality – courtesy of Sygic.
Download for
Android
or
iOS
Speed Camera Radar Pro
SCR Pro detects road hazards, such as speed cameras (mobile ambush, static speed cameras, red light cameras, etc), speed bumps, and bad roads. You can make use of Map and Radar view modes, map auto-zoom and rotation, and a database of over 140 000 active hazards around the world. The app supports voice alerts and is able to keep working in background, or alongside other Navigation APPs.
ALSO READ