5 new Android launchers and interface tools (June)
6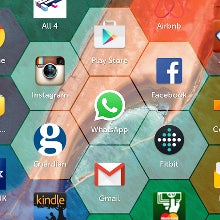 If you put enough time and effort, they say, you can tailor every Android phone to serve your unique interests and interface layout, and third-party launchers like Nova, Apex and the like, have proved it time and again.
Every once in a while, a new launcher appears that promises a paradigm shift in interacting with our mobile devices, utilizing innovative gesture-based or side-sliding launch tech, and some of them are even donning amazing graphics and extra functionality.
We took a glimpse at what's new and cool or updated fine at the Play Store in the interface draping department for the past month, and noticed a few launchers and interface tools that you might find useful, or at least funky to try out. Check them out below.
You've heard about SwiftKey, right? Well, Hexy is a result of SwiftKey's innovation week undertaking as a tester app. Hexy sports a quirky shape, and can organize your homescreen automatically, predicting what you might want to use next.
Noria is a fresh minimalistic launcher that is fast and simple to use, with a card system, and an app search functionality built in.
X launcher brings Microsoft's "tiled" Modern UI to Android, making it colorful, fluid, and highly customizable, bringing all of your apps to life with a simple left swipe.
An oddball of a launcher, ap15 automatically puts your most used apps on the home screen in text format, based on the number of times they've been opened, and adjusts the texts color based on the relative luminosity of the wallpaper you've chosen for a better contrast. As you can easily guess, it is extremely lightweight.
Tube Launcher bets on personalization, putting things like your avatar and/or name on the homescreen, but offers also all bells associated with a good launcher, such as smart app icon arrangement with drag&drop function, transition animations, scrolling effects, a set of useful widgets, and a power-saving mode. It is built with Google's Material Design guidelines in mind, and the Pro version offers numerous themes and wallpapers to choose from when dressing it up.