12 Sony Xperia Z3 cases and covers to protect your new purchase
5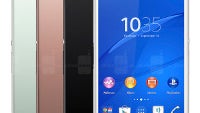 Five whole days have passed since Sony took to IFA 2014 to announce its flagship Z-line refresh with the
Xperia Z3
. As a part of the company's new strategy to release flagship updates twice a year, the Z3 came just 6 months after the
Z2
was made public during another major expo -- MWC 2014. This obviously limits the number of improvements the company can pack into any one successive device, but that does not at all mean that the Xperia Z3 is a disappointment. Perhaps not a major update, but definitely a great stand alone product.
Unfortunately, as is becoming typical of Sony, the company wasn't very talkative as far as release dates around the globe for the Z3 are concerned, though we were told that a "global" roll-out will begin this autumn. This is a fairly vague time window, but it is a window nevertheless, meaning that within the next one or two months, parts of the world will start seeing the Z3 coming in stock. What that most likely means is that a bunch of Sony fans (or newcomers, of course) will be searching the web frantically for cases and covers that will provide their new smartphone with the protection it deserves. If you count yourself among those people, then the cases we've picked for you bellow should be a very good starting point.
We'll come back and update this post once more cases become available.
Sony also showcased a number of designer cases and covers at IFA 2014. Unfortunately, many of those are not yet available from the casemakers' own web stores. Regardless, you can take a look at what's likely to be stocked up rather soon, and perhaps hold off on the purchase of one of the above if something catches your fancy.