10 recent, new, and upcoming 4GB RAM smartphones and tablets
42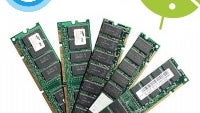 Since the introduction of 64-bit ARM mobile chipsets by Intel, MediaTek and Qualcomm, 4GB of random access memory has become a standout feature in the evolution of flagship devices. And indeed, Android & Windows-running smartphones and tablets with the humongous 4GB of RAM are already here, but in very limited quantities. Although smartphone makers have the needed technology at disposal, not all of them are in a hurry to make the jump right this second.
Realistically, unless you have specific usage needs (i.e. you are a researcher looking for compute power), there isn't much you can do with 4GB of RAM on Android that you can't do with 3GB, or even 2GB of the stuff. Heck, Apple still makes do with 1GB of RAM - but that's a whole 'nother story to tackle. Rumors coming from the mill insist that the likes of HTC, LG, Samsung, and Sony will keep the base configurations of their upcoming flagships at 3GB of RAM, with the added possibility of bringing 4GB RAM to spruced-up versions of the same devices.
For the spec enthusiasts among you, here are 10 recent, new, and upcoming 4GB RAM smartphones and tablets.