Google Pixel Fold release date, price, features, and news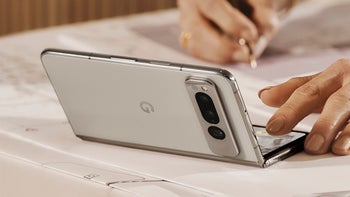 If you're interested in learning about the Google Pixel Fold, you're in the right place. Here we'll continuously add for you all of the Pixel Fold leaks, Pixel Fold rumors from reliable sources, renders, Pixel Fold-related patents and more...
What is the Google Pixel Fold? By many accounts it's going to be Google's first competitor in the growing foldable phone market; a large, nearly tablet-sized smartphone when unfolded like a book, with an additional outer display for use when it's closed.
As soon as the Android 12 Beta was released back in last May, we started getting reports of
foldable Google smartphone references
found inside of it. More specifically, the following Pixel phone model number – "Passport (Pixel foldable) – GPQ72".
Does this suggest Google is on its way to launch a foldable Google Pixel soon, possibly named Google Pixel Fold or Google Pixel Passport? Very likely. Here's all the intel we currently have on
Google
's potential upcoming foldable phone.
Latest Google Pixel Fold leaks, updated August 5, 2022:
Google Pixel Fold release date
Q4, 2022 (Possibly delayed for next year)
Supporting Young's claim, other leaksters have suggested that the Google Pixel Fold might be officially unveiled at the
Pixel 6 event
on October 19, 2021. However, this turned out to be false, and Google didn't announce any new devices except for the expected Pixel 6 and Pixel 6 Pro smartphones.
And in mid-November, 2021, Ross Young said that Google may have actually cancelled its Google Pixel Fold parts orders, suggesting that the device is either cancelled or further delayed.
More recently, in mid-February of 2022, Young has stated that Foldable Pixel expected to be released in Q4, meaning late this year.
However, a few months later, a Korean publication named The Elec reported that Google was no longer planning to reveal the Pixel Fold during Q4. So now we can suspect that the Pixel Fold is either delayed for 2023 or indefinitely again.
Stay tuned, as we'll have more information here as soon as further Pixel Fold leaks regarding its release date become available.
Google Pixel Fold price
The upcoming Pixel Fold's biggest competitor – the Samsung
Galaxy Z Fold 3
costs $1,799, although it can often be found for less, especially with trade-in. Based on that, initially we expected the Google Pixel Fold to also be anywhere between $1,499 and $1,799, although 9to5Google has claimed that Google is aiming for a cheaper price – somewhere around $1,400.
Google foldable phone name
While "Google Pixel Fold" is a speculative name for this phone, it could be called the "Google Passport", "Google Logbook", or as the most recent leaks suggest – the "Pixel Notepad".
Google Pixel Fold design and display
AMOLED display, 120Hz refresh rate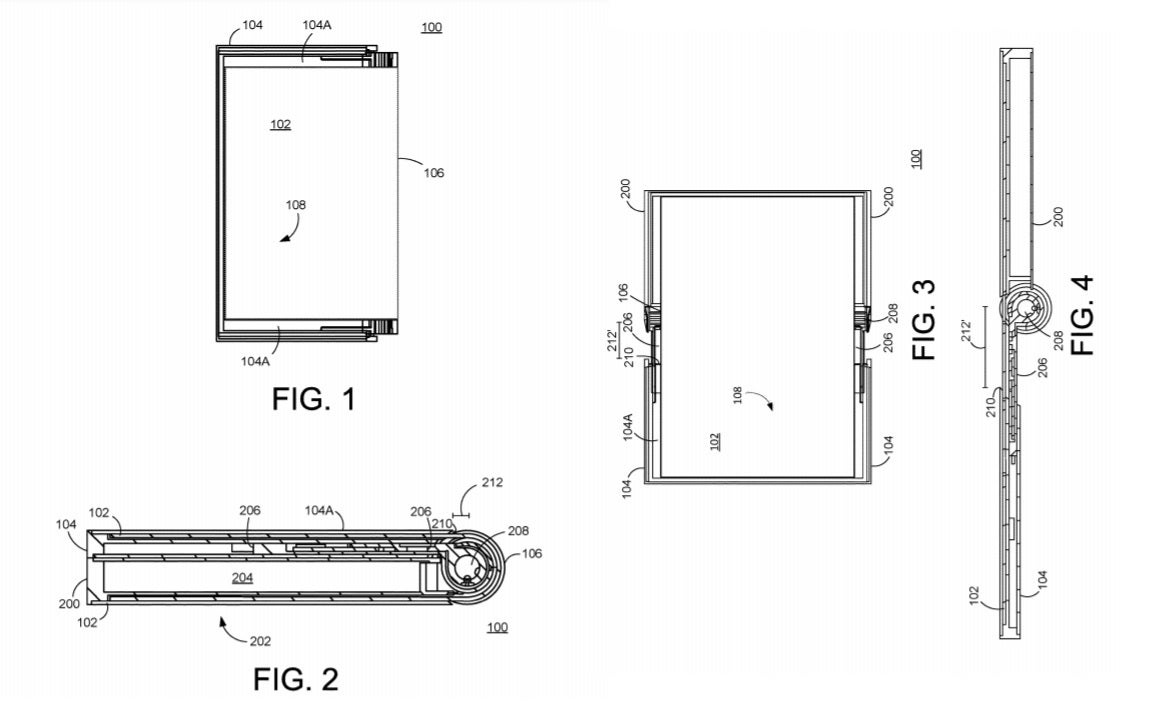 Different angles of a foldable Google Pixel phone (patent images)
We've been seeing Google patents suggesting the company is looking into making a foldable phone as early as 2019. Back in May of that year,
Google filed a folding phone patent
, although it was for a clamshell-design phone akin to the Galaxy Z Flip.
More recently, a
patent application
dated April 2020 showed that Google is also considering a book-like phone design similar to the Z Fold. The patent was particularly focused on the folding phone's hinge, suggesting that Google was already hard at work into refining it.
Based on the
Pixel 5
design, we have the following concept renders courtesy of YouTuber
Waqar Khan
. As cool as they look, note that those likely don't represent the design of the final Pixel Fold. We'll have actual design photos for you here as soon as they become available, so stay tuned!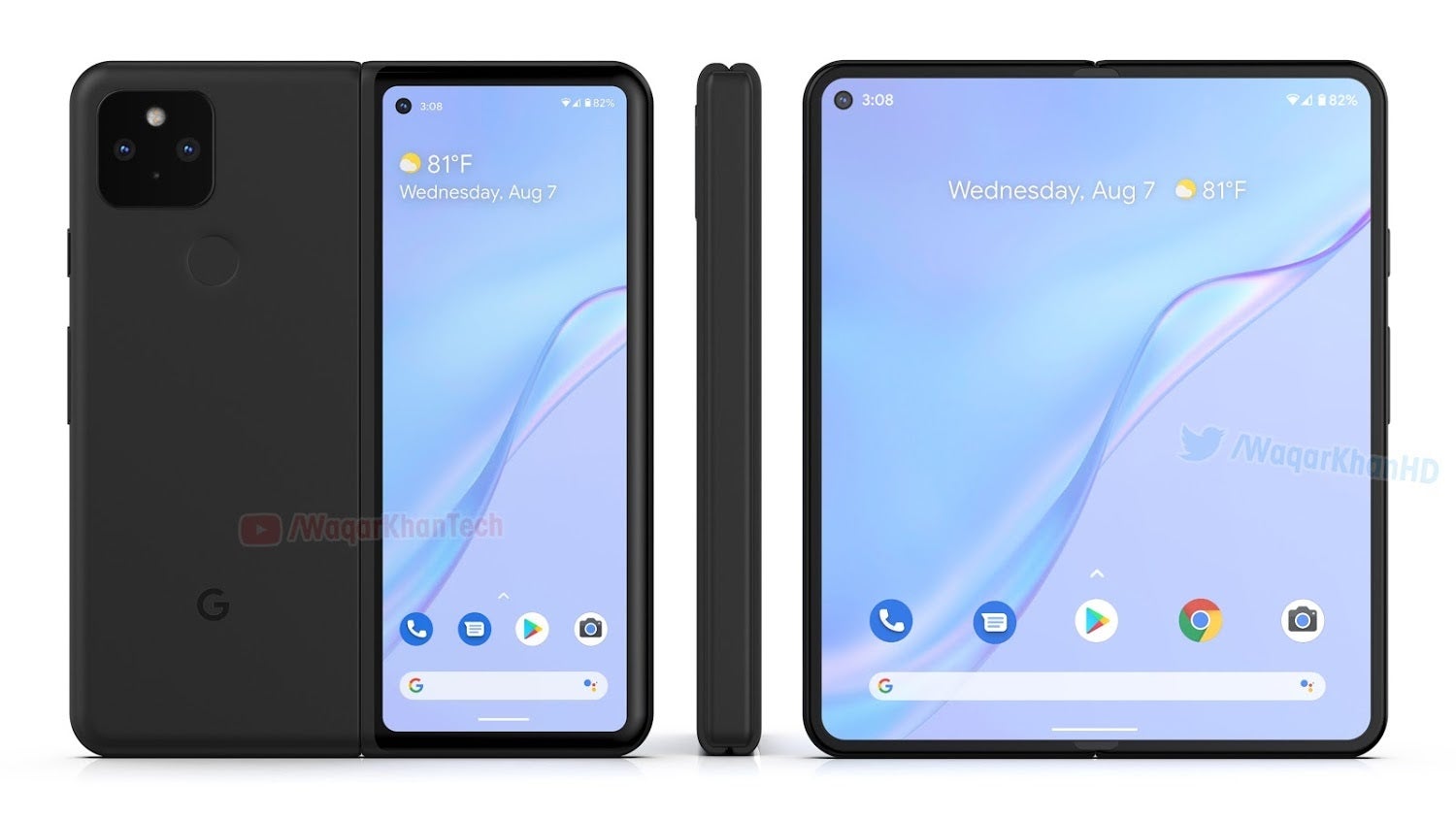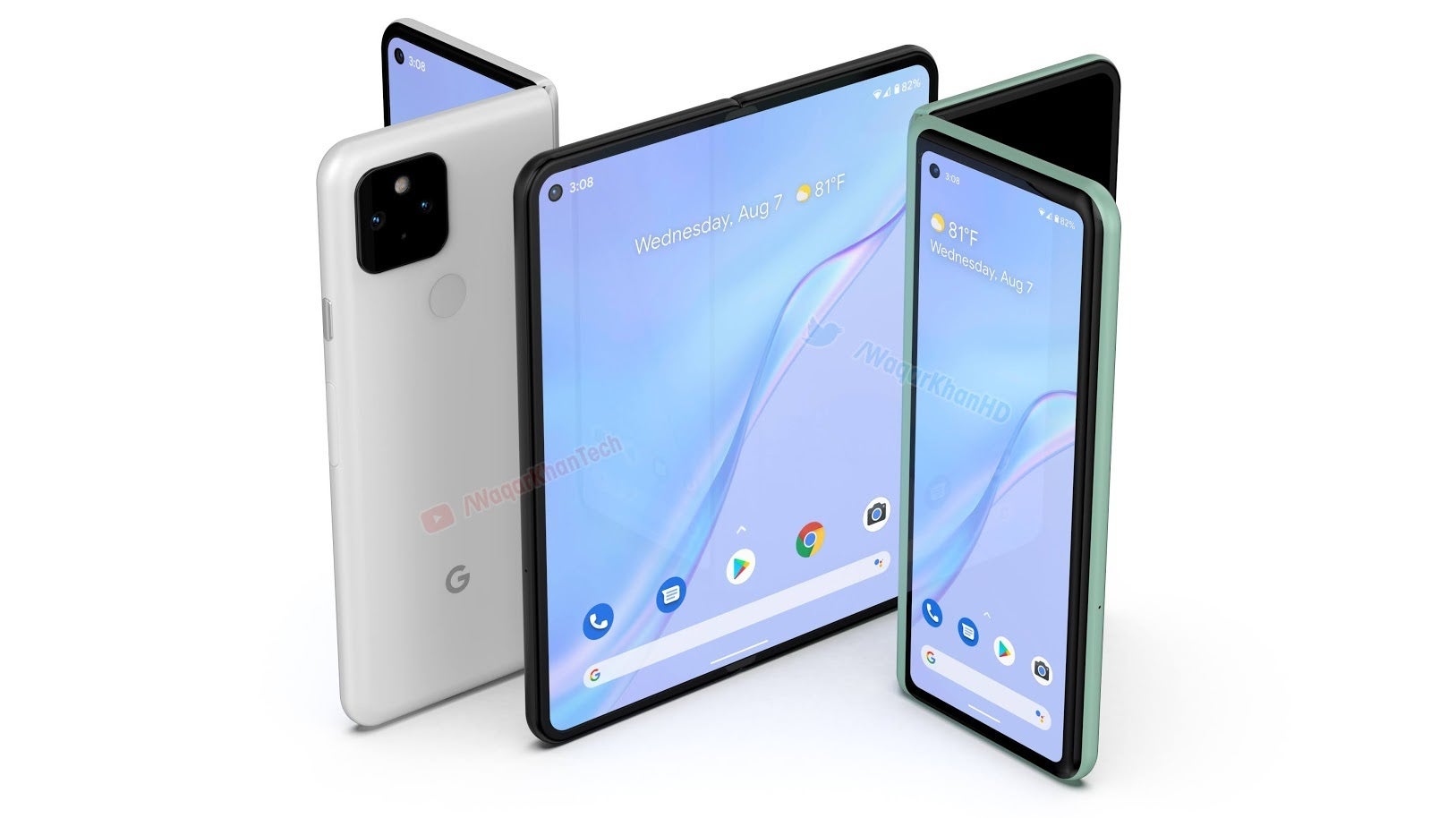 Google Pixel Fold concept renders
As for the screen, the Google Pixel Fold has been said to feature a flexible 7.6-inch OLED display produced by
Samsung
. That display will be able to fold in half inwards, similarly to the likes of the Galaxy Z Fold. And just like it, we expect the Google Pixel Fold to have a smaller, secondary outer screen that will be more immediately accessible to the user.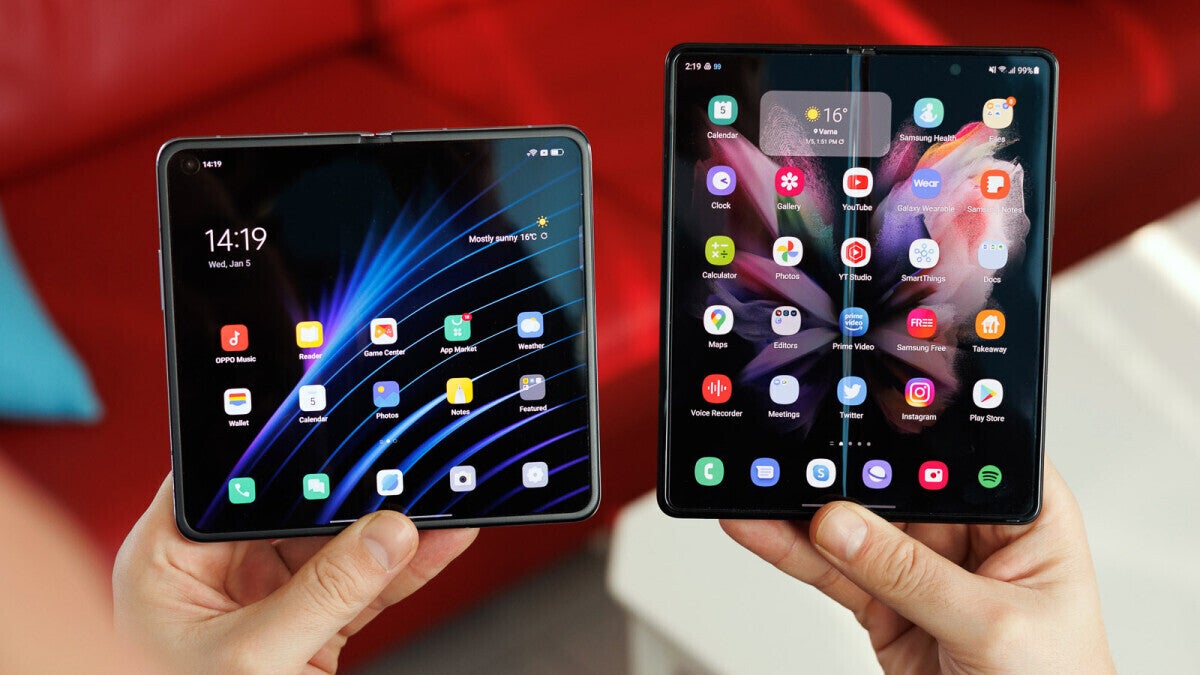 Oppo Find N (left), Galaxy Z Fold 3 (right)
In early January of 2022 an animation discovered in the Android 12L beta hinted that the Pixel Fold might actually look closer to the
Oppo Find N
than the Galaxy Z Fold 3, meaning it might sport a more square-ish, wider display.
Google Pixel Fold features and software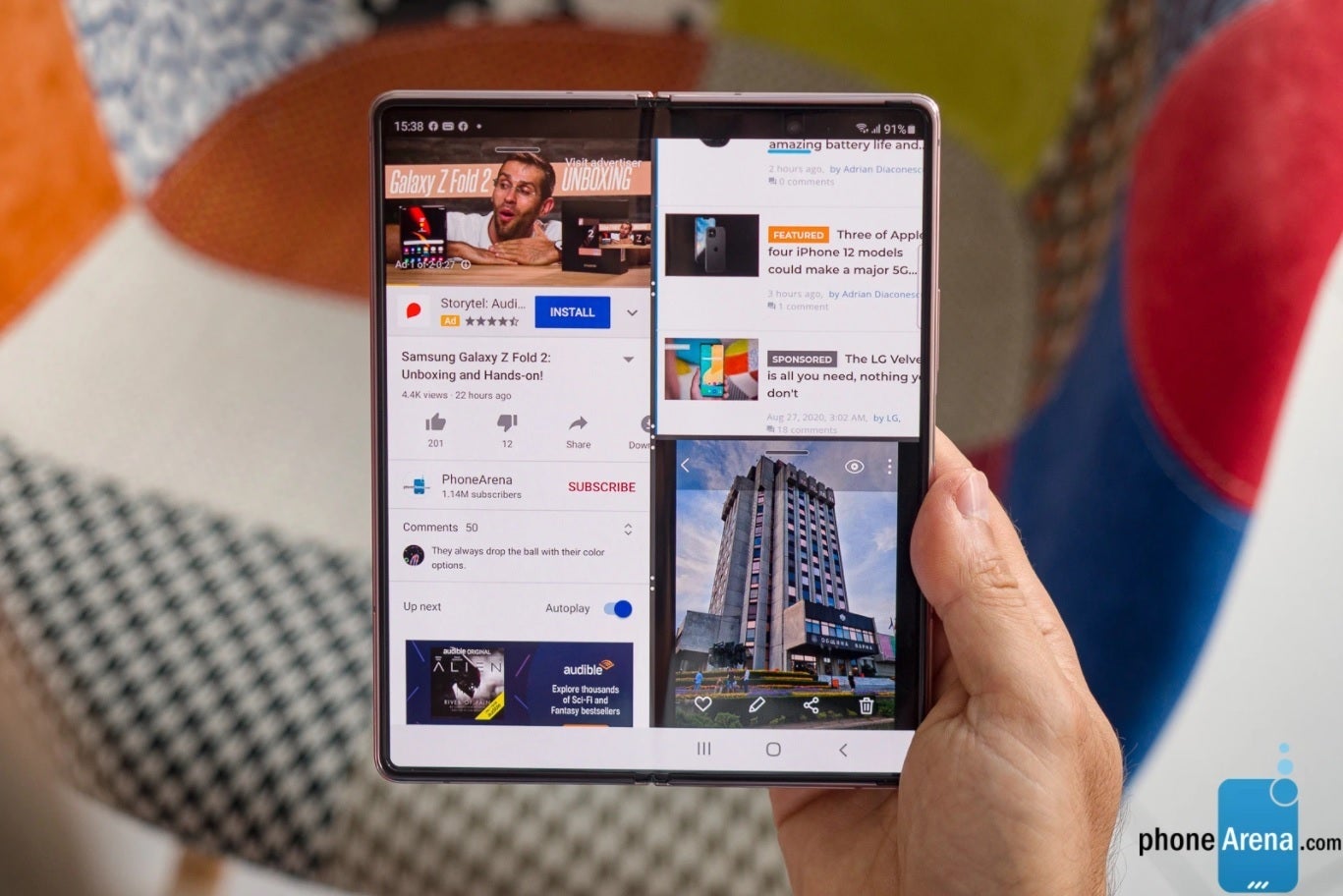 Multitasking on the Pixel Fold might be similar to the Galaxy Z Fold 2 experience (shown here)
The Google Pixel Fold will be running Android 12. Based on the Android 12 Beta, we expect it to bring features specific to folding phones, likely with a focus on multitasking, so that users can take full advantage of their big displays.
Samsung's Z Fold 2 for example supports up to three apps in split-screen, with even more in windowed mode. We expect similar features from Android 12 for the Pixel Fold.
Android 12 also brings new user customization features, improved performance, privacy, security and more. See our
Android 12 preview
for more details about Google's latest software.