Samsung Galaxy Note 10+ vs Galaxy Note 9
17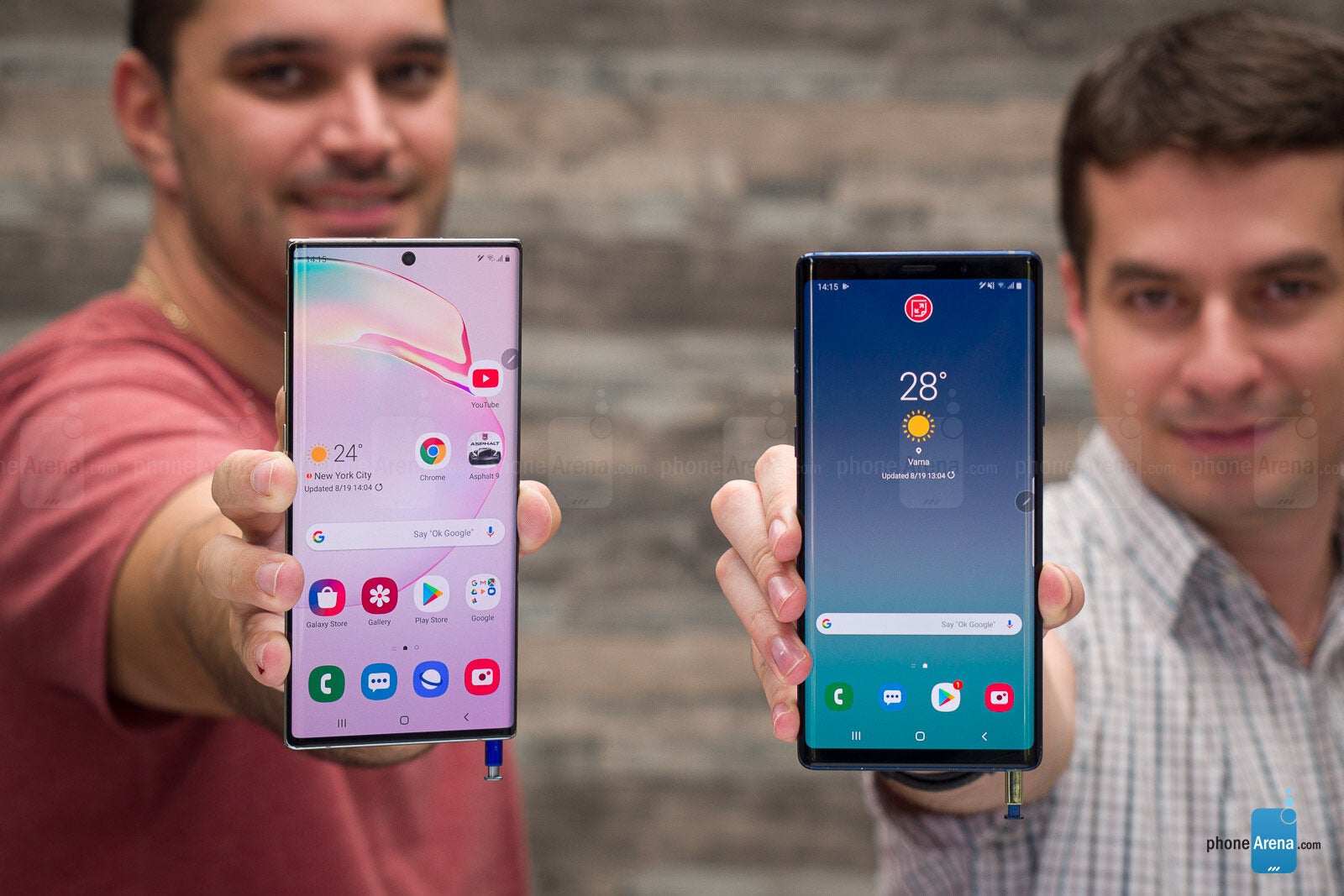 "Out with the old, in with the new" is what people often say. But if you're already a proud owner of the Samsung Galaxy Note 9, should you upgrade as soon as possible to the newer Galaxy Note 10+? Note 9 vs Note 10 Plus clash against one another!
Note 10+ vs Note 9: Design
From a design standpoint, the new Galaxy Note 10+ is a big step ahead of the Note 9. While the latter mostly put function over form and relied on clean, utilitarian aesthetics and conservative colors, the Note 10+ takes a much more aggressive and expressive approach in the design department. With the new crop of Notes, you get very bold and vivid colorways that beckon you to take a second look at the back of the phone, hold it, and simply experience the snazzy exterior first-hand. Meanwhile, the Note 9 boasts a more reserved exterior design that is a classier and more suited for white-collar Note users.
Being part of the same premium series, both phones share tons of hardware and functionality similarities. We've got S Pen styluses, IP68 water resistance, and stereo speakers on the Note 9 and Note 10+, but one thing that's notoriously missing on the newer model is the 3.5mm audio jack. There's also no dongle in the box of the Note 10+, so if you need one, you have to spend an extra $15.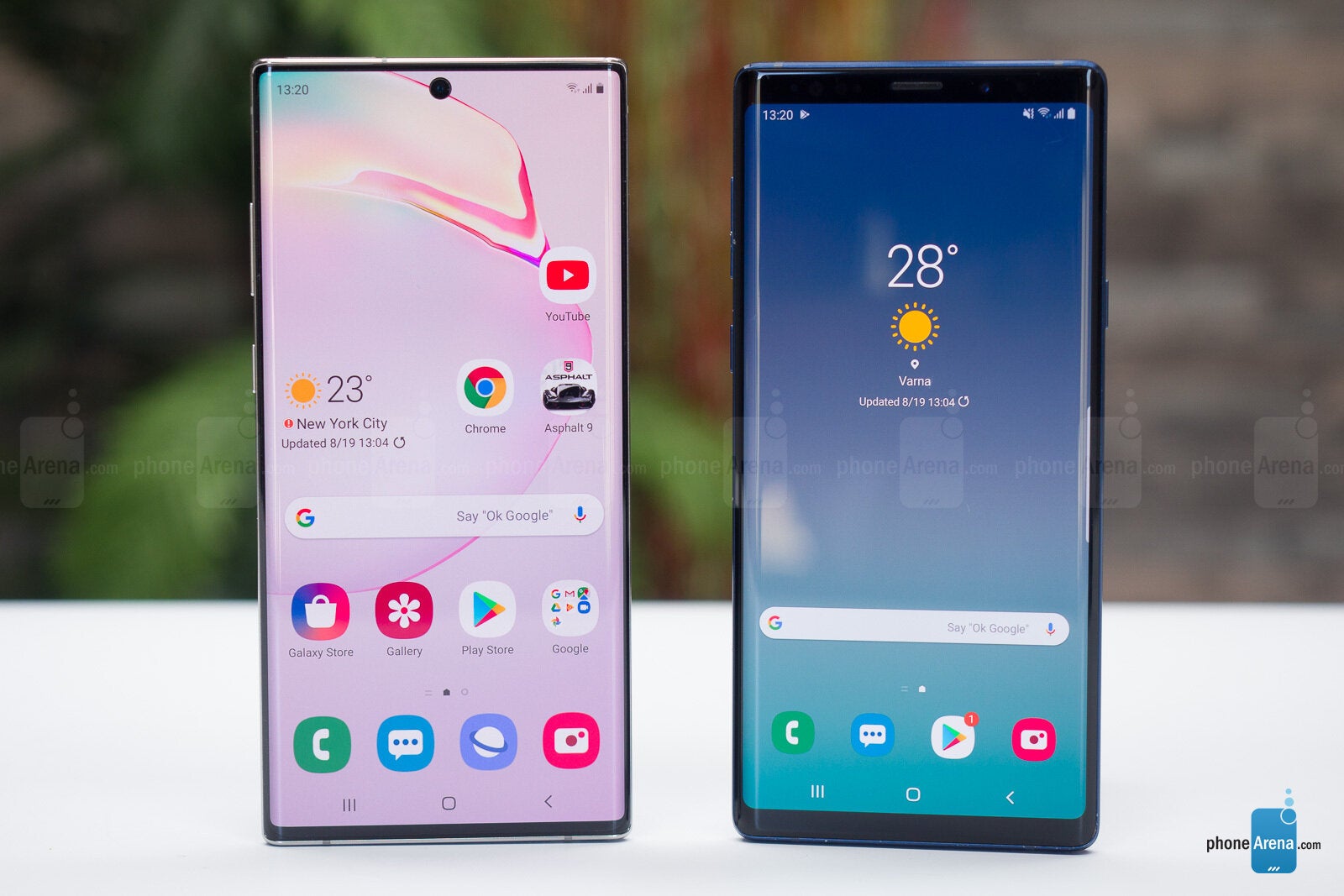 The Galaxy Note 9 has a dedicated Bixby button on the left in addition to the familiar power and volume keys on the right. On the Note 10+'s left side, however, we only find a volume rocker and a combo button below used to power the phone on or off with a single press -- or bring forth Bixby with a long press. This certainly makes for a sleeker appearance, but the lack of a power button on the right side of the phone might irk some Samsung fans. It just takes some time to overcome muscle memory.
Note 10+ vs Note 9: Display
Display quality is an area in which Samsung consistently outdoes itself, and the Note 10+ is just the latest proof of that. We have this big, bright, and vivid 6.8-inch display on the Note 10+, which features excellent color accuracy and viewing angles. In the meantime, the Note 9 has an 6.4-inch display that isn't interrupted by any notches or punch holes but is simply dwarfed by the Note 10+. Sure, that one has the selfie camera punch-hole, but it doesn't really get into the way that much, and after a while you might stop noticing it altogether.
When it comes to real-life usage, the Note 10+ has a pretty big ace up its sleeve – it can get much brighter under direct sunlight conditions, and could also hit a slightly lower minimum brightness in pitch-black darkness. This much greater brightness spread makes the Note 10+ a more useful device than the Note 9 if you often find yourself using your phone in such diverse lighting conditions.
Display measurements and quality
Note 10+ vs Note 9: Interface & functionality
One UI can be found on both Notes, and we are pretty warm towards Samsung's latest interface. It is both modern and feature rich, arguably making it the best interface Samsung has come forward with. There's a dedicated dark mode, gesture navigation, theme support, an always-on display, and so much more, making One UI one of our favorite Android skins. For the most part, the interface of the Note 10+ and Note 9 is largely similar to the one you'd find on a Galaxy S10+, for example, with the exception of having some exclusive features tied to the S Pen stylus.
The Note 10+ has some other unique features of its own, like the AR Doodle camera mode that lets you apply AR scribbles on people or yourself and snap a quick video to post on your Instagram stories. It's a fun feature, but not something we'd see ourselves using more than once or twice.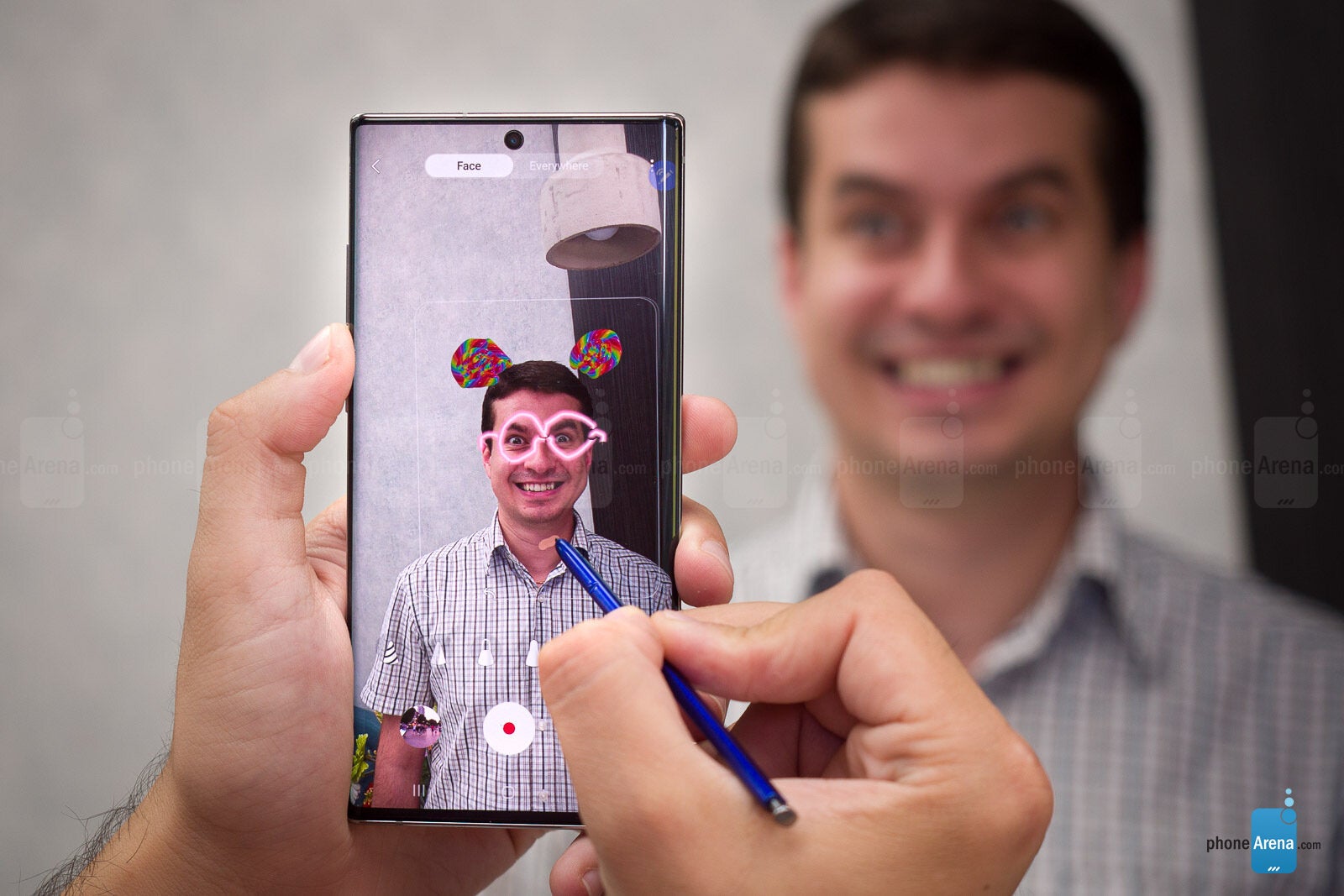 The AR Doodle camera mode
The Note 10+ allows you to use the S Pen and interact with the camera interface. Holding the button on the S Pen and flicking the stylus around allows you to switch between the front and rear cameras, change camera modes, and even zoom in or out with gestures, but it's largely a hit-or-miss affair.
From a purely performance standpoint, you might encounter subtle interface jitters and animations janks here and there on both devices. This is certainly a software optimization issue still prevalent in One UI and not a hardware problem, as both devices are definitely powerful enough.
Note 10+ vs Note 9: Fingerprint and Face Unlock
Another area in which the Note 10+ doesn't feel particularly great is the in-display fingerprint scanner. It works as expected, but is neither fast, nor particularly reliable. Meanwhile, the traditional fingerprint scanner on the Galaxy Note 9 might look a bit outdated in comparison, but it's faster and more reliable.
Face Unlock can be found on both devices, and while it is very fast, I don't recommend using this one as your go-to biometric security solution. Since it only uses a picture of your face, Samsung's Face Unlock is way less secure than depth-sensing solutions like Apple's Face ID.
As a reminder, the Galaxy Note 9 also comes with iris scanning which is more secure than the standard Face Unlock feature but it can be clunky to use.
Note 10+ vs Note 9: Performance & memory
In the US, both the Note 9 and the Note 10+ are powered by Snapdragon chipsets – Snapdragon 845 and 855, respectively. International versions of the phone are powered by Samsung's own Exynos line of chips – the Exynos 9810 goes in the Note 9, while the Note 10+ gets powered by the Exynos 9825. There's plenty of RAM on the Note 10+: a whole lot of 12GB will meet all of your multitasking needs. The Note 9 is available with 6 or 8GB of RAM.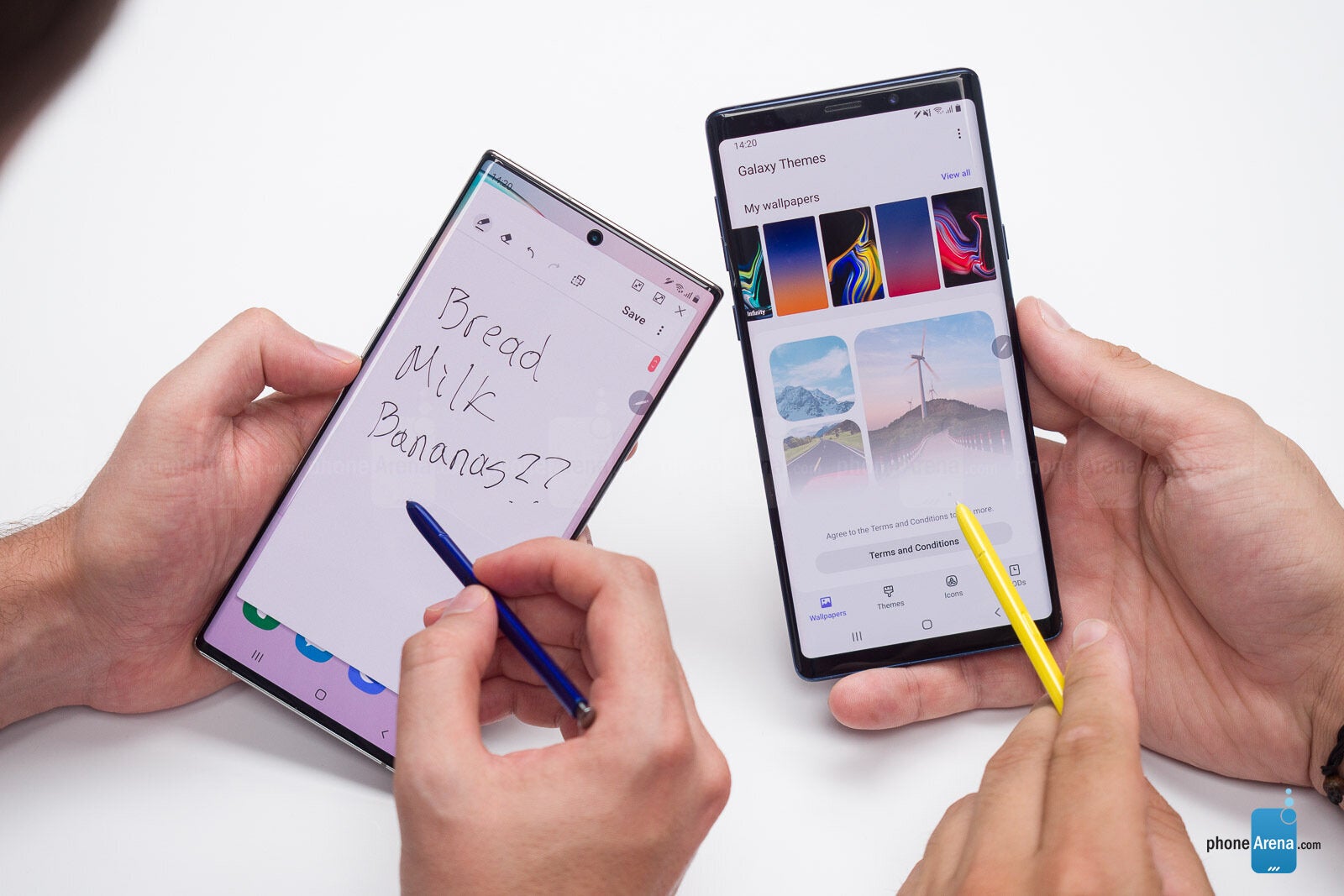 In terms of performance, both phones perform admirably. Whatever you do, there's always the feeling of having tons of spare performance at hand. Of course, the Note 10+ has the pretty obvious advantage of being newer and more future proof, not to mention that it's flaunting a faster chipset of the Snapdragon series, but the Note 9 isn't lagging behind at all. It is in benchmarks, naturally, but when it comes to real-world usage, the Note 9 definitely isn't much slower than the Galaxy Note 10+.
One area in which the Note 10+ is vastly superior are read/write storage speeds – thanks to the new UFS 3.0 memory on deck, the Note 10+ performs much better in heavier tasks and would load apps noticeably faster than the Note 9.
On the topic of memory, the Galaxy Note 10+ offers much more from the get-go – the base version of the phone comes with 256GB of storage, while the more generous version would let you have 512GB of storage at your disposal. The Note 9 comes with either 128GB or 512GB of storage. Both the Note 9 and Note 10+ have microSD card slots for further storage expansion.
Note 10+ vs Note 9: Camera
The Galaxy Note 10+ really takes things up a notch when it comes to cameras. In addition to the regular and telephoto cameras that the two phones have in common, the Note 10+ also scores a ultra-wide snapper and a ToF sensor for depth perception and is mostly used to improve the Live Focus portrait mode.
Let me start by saying that the additional wide-angle camera makes the Note 10+ that much more versatile in comparison with the Note 9 – the additional angle of view is literally liberating in certain situations.
Note 10+ vs Note 9: Image quality
Daytime regular photo
In bright daylight, both the Note 9 and Note 10+ take great wide-angle shots. There's tons of details in the two samples below, with great exposure and colors. Contrast is slightly more pronounced in those images taken with the Note 10+, but the difference is very slight.
Daytime telephoto
In good lighting conditions, the telephoto cameras also produce lovely pictures. One thing to take away from the samples below is that the Note 10+, generally produces ever-so-slightly colder photos than the Note 9. What's more, photos taken on the Note 10+'s are a bit more contrasty.
Daytime Live Focus
Samsung's portrait mode, called Live Focus, is present on both the Note 10+ and the Note 9. The good news here is that said portraits are captured with the telephoto lenses on both phones by default, which helps achieve more favorable face proportions and is generally more suited to such portrait images. It's worth mentioning that both phones let you snap a wide-angle portrait as well, but only the Note 10+ lets you do that beforehand – with the Note 9, you have to go to your Gallery post-factum and manually save the wide-angle portrait image yourself.
Daytime Selfie
Daytime selfies generally turn out better on the new Note 10+. There are less subject separation issues on the new phone, as well as much better dynamics range – highlights don't get burnt, and shadows feature more details.
HDR
When it comes to scenes with a wide dynamic range, both phones perform very well, but the Note 10+ is sadly prone to undesirable artifacts in certain situations. The HDR processing algorithm seems to be trying to preserve those highlights from burning out a bit too much, resulting in some weird artifacts. Aside from that, HDR on the Note 10+ appears to be a bit harsh compared to the Note 9, which is a bit hard to like.



Night-time regular photo
Regular night-time pictures turn out great on both devices. The Note 10+ certainly does a better job at exposing those pesky neon lights which are notoriously hard to tackle by smartphone cameras.



Night-time telephoto
The telephoto camera on the Note 10+ has a larger F2.1 aperture than the F2.4 one on the Note 9, and this definitely shows. The Note 10+ is capable of snapping some impressive shots in low-light conditions and bring up the dark areas way more.



Night Mode
Both phones have dedicated Night modes, enabling you to utilize a long-exposure shooting method. Sadly, it seems that the Night mode feature of the Note 10+ is suffering from some issues when it comes to highlights – both the neon signs and the lights inside the store are not exposed correctly. The Note 9 has done a better job.




Night-time Live Focus
Live Focus works quite well on both phones when the light goes down, but I feel the Note 9 does a slightly better job here – the exposure on the face is just a tad brighter and makes the portrait taken on the Note 9 pop out.




Note 10+ vs Note 9: Video quality

When it comes to video quality, both phones can shoot up to 4K@60fps, which is as crispy and smooth as it gets right now. The Note 9 and the Note 10+ produce excellent videos that have great exposure and no jitter thanks to the stabilization on deck. The Note 10+ is better-equipped though – not only does it have a SuperSteady stabilization mode, but it also has the useful Zoom-in Mic feature, which tries to amplify the audio when you zoom in on a certain object. Both of these features would definitely come in handy to aspiring video enthusiasts that acquire a Note 10+. However, certain gimmicky new features like Live Focus video left a bad taste in our mouth – this feature sounds great at first, but the Note 10+ introduces so much artifacts in the Live Focus video that it's literally unusable.






Note 10+ vs Note 9: Battery life
As far as battery life goes, you can expect pretty similar performance from both the Note 9 and the Note 10+. Both scored between 8 and 9 hours in our custom battery test, which should be more than enough to last you a day of heavy usage.
When it comes to recharging speeds, the Note 10+ truly trumps its predecessor. Even the stock 25W charger that comes in the box does an exceptional job at charging the device at ludicrous speeds – 33% of charge in 15 minutes, 61% in 30 minutes, and nearly full battery in 60 minutes. If you purchase the optional 45W charger that Samsung sells separately, you can enjoy even faster charging speeds!
One new feature that the Galaxy Note 10+ has inherited straight from the Galaxy S10 series is the reverse wireless charging which could be used to quickly top up your Galaxy Buds or Galaxy Watch Active wearable. It's a gimmick, but a gimmick that the Note 9 is lacking
Meanwhile, the Note 9 takes 109 minutes to get fully charged, which is not that long, but definitely slower than the Note 10+.
Note 10+ vs Note 9: Conclusion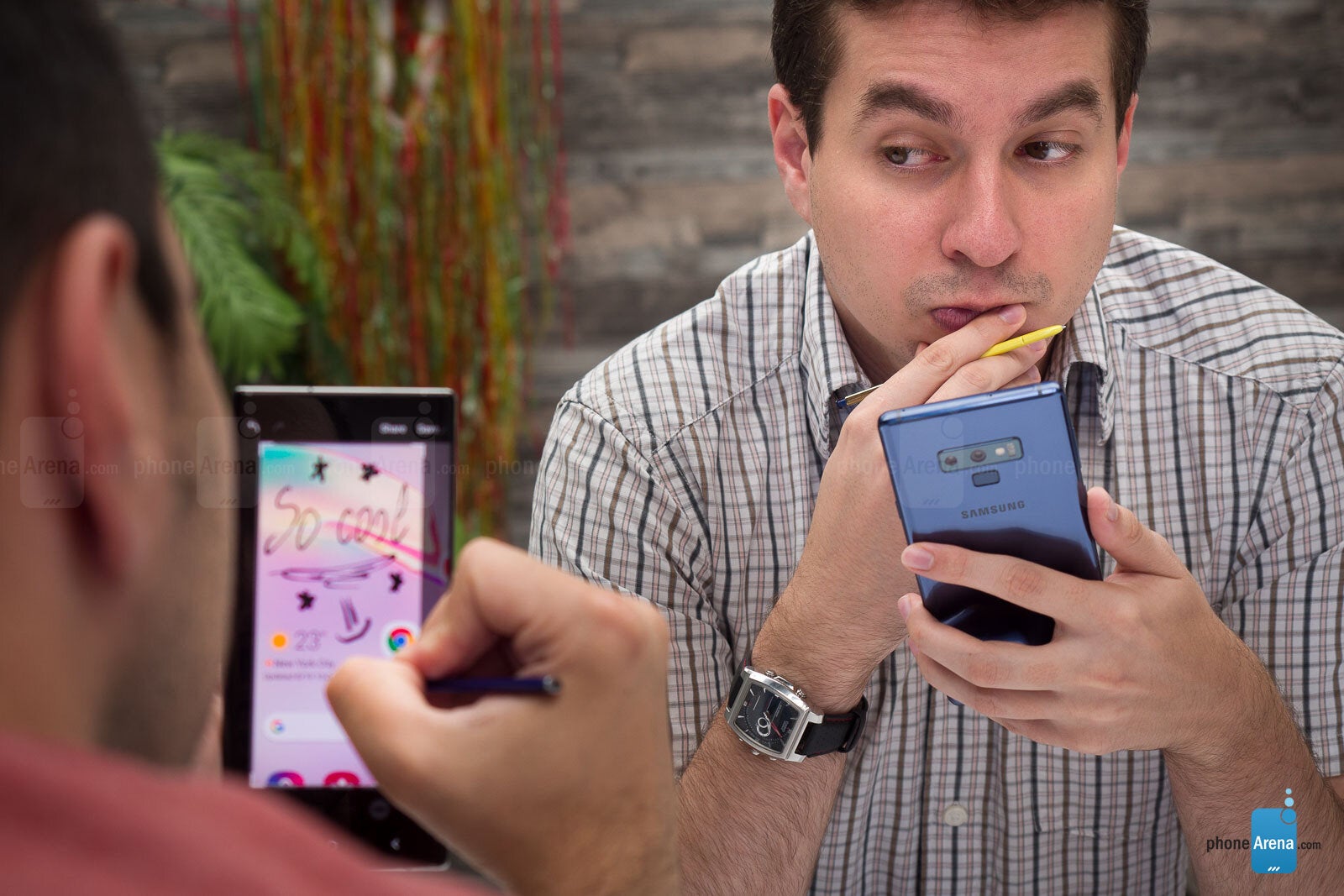 So, should Note 9 users upgrade to the Note 10+ in a heartbeat?
If you have the cash to burn, then yes, absolutely. Otherwise, save your money.
Despite the revamped design and all the cool new features that the Galaxy Note 10+ has scored, the overall experience of those Note 9 users won't be improved that much. Last year's Note is still a great phone. Sure, the Note 10+ boasts much flashier design, a new ultra wide-angle camera that's quite versatile, as well as lots of new S Pen features and much faster charging speeds, but some important areas like battery life and overall image quality aren't as improved as we'd like them to be.
The Note 10+ would be a wonderful entry into the Galaxy Note ecosystem, but we wouldn't recommend upgrading if you're already rocking a Note 9. It's up to you to decide if the mostly marginal improvements in most areas are worth the purchase of the newer phone or not.