LG Optimus One Review
14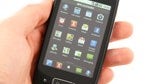 Introduction:
LG revealed back in July that it will launch ten smartphones in a newly-coined Optimus line by year-end. For now it looks like an even mix of Android and WP7 devices will be in it, and LG will be topping it off with a dual-core smartphone, and a Honeycomb-running tablet. In the initial announcement, the Optimus line naturally started with the
Optimus One
, and the
Optimus Chic
, both of which are running Froyo.
LG's marketing team is all over the handset – unortodox promo videos included. It threw a party in London recently, dedicated to the LG Optimus One, mixing it with some celebrities, so in the next few pages we are going to review the party animal, and check how it fares for a starting point of the Optimus line...
Design:
The LG Optimus One looks and feels quite contemporary. There is soft-touch coating all around the phone, interrupted only by the four nice, clickable Android buttons below the 3.2" screen, the 3MP camera on the back, and the chrome-like bezel. The metallic rim is thin around the top, and widens in the bottom half. The volume rocker on the right side, and the lock/power button at the top are designed to be a part of the thin half, and thus hard to find and press.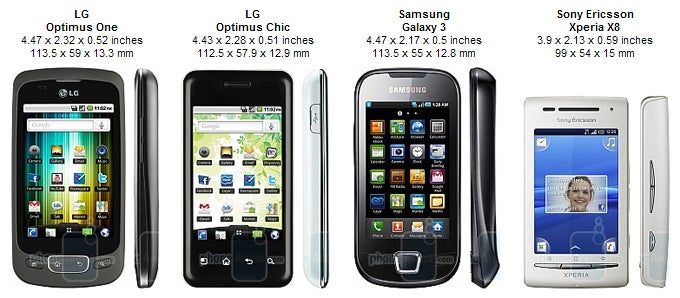 You can compare the LG Optimus One with many other phones using our
Size Visualization Tool
.
The bezel also wraps around the 3.5mm audio jack on the top, and the microUSB port at the bottom, for an uninterrupted, stylish accentuation of the chrome on black concept. Since the LG Optimus One is not so thin at 13.3 mm (0.52"), or light at 129 g (4.55 oz), it actually matches its price point as far as physical dimensions are concerned.
The 3.2" capacitive touchscreen is rather basic as specs (320x480 pixels of resolution, 262 000 colors), but decent in terms of sunlight visibility, viewing angles and responsiveness. The color gamut and contrast could be wider, but at this price point, sacrifices are inevitable. The rounded design, with nice soft-touch coating front and back make the LG Optimus One a pleasure to hold. The chrome-like bezel, and the elevated plate for the two most used Android buttons in the front, add just the grain of pizzazz required to make the handset stand out in the sea of Android design mediocrity.
LG Optimus One 360-degree View: Recommended Stories