Asus PadFone X mini Review
1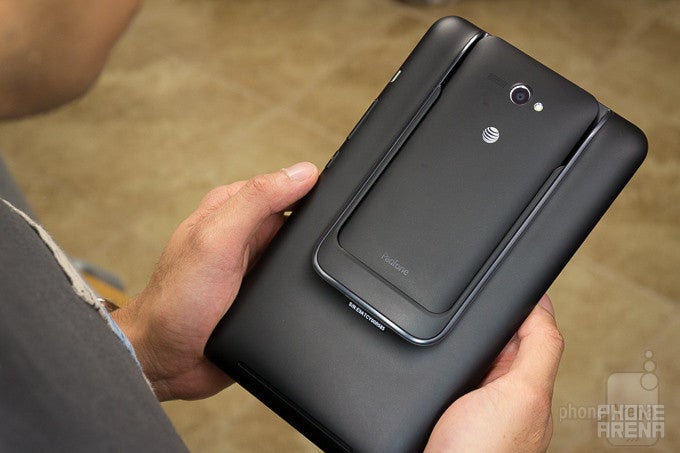 Introduction
Asus loves getting its hands into everything. That's not a bad thing, since variety in its products go a long way to giving consumers the power of choice. At the same time, though, it means that there are a whole lot of redundant, forgettable devices that attempt to win us over. Just this past recent summer, we were introduced to the
Asus PadFone X
– a high spec'd, versatile, dual functioning device that can go instantly from smartphone to tablet, and vice versa. Well, it seems that Asus just can't resist giving us options, as the
Asus PadFone X mini
is a similar functioning device in a smaller package.
The package contains:
microUSB cable
Wall charger
7-inch tablet body
Stereo headphones
User guide
Design
Conventional is one way of describing its overall looks, but it's still pretty neat for its versatile, dual functioning design.
Neither the phone, nor the tablet sport a compelling design, which isn't much of a shocker factoring in its inexpensive cost. The Asus PadFone X mini is a thick, plastic-bodied thing that doesn't even attempt to be attractive. Despite the lack of attention, we certainly like that it's compact in size to hold easily in one hand. On the surface, it looks closely similar to its beefier sibling in the PadFone X, but it's obvious that it doesn't receive as much love.
It's not every day that a phone can instantly turn into a tablet, and vice versa, so we really appreciate the PadFone X mini's versatility in doing so. Just as before, all that's required is to slide the phone into the slot in the back of the 7-inch tablet. Essentially, it's the phone that powers the tablet – though, technically, it's the phone that gets charged in the process.
Display
There's just a laundry list of unpleasant qualities with the phone's display, including the tablet's screen.
Hardly the stuff that gets us drooling, the Asus PadFone X mini's 4.5-inch 480 x 854 display doesn't have any redeeming qualities to make it a pleasure to use. Instead, it's just effective for the bare essentials – and nothing more! The laundry list of unpleasant qualities with the screen is an endless one, like its lack of sharpness, so-so 385 nit brightness, the panel's colder looking tone, and its distorted look at various wide angles. In terms of color reproduction, it's decent looking when viewed straight up, but it begins to wash out the wider we go. Unfortunately, those same qualities also translate over to the 7-inch 800 x 1280 display of the tablet – albeit, we find its resolution to be sufficient for practical usage on a tablet.
Display measurements and quality
Recommended Stories