Save $65 on a 256GB Samsung microSD card, other capacities discounted as well!
8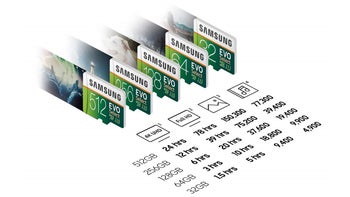 Looking for some additional storage, be it for a smartphone, tablet, or a camera? We recently told you about this sweet deal on
PNY's massive 512GB Elite microSD card
, but if you missed it (or aren't in need of
that much
storage), then we have some offers to share on various Samsung microSD cards.
Currently, Amazon is running a sale on Samsung microSD cards in various capacities, ranging from a measly 32 gigs, all the way to 256. Best of all, of them are discounted by no less than 30 percent. In the case of the 256GB card, you're getting a 54 percent discount! Here's the different storage options available:
Samsung EVO Select 32GB microSD card – $6.99 (down from $9.99)
Samsung EVO Select 64GB microSD card – $12.99 (down from $22.99)
Samsung EVO Select 128GB microSD card – $24.97 (down from $41.99)
Samsung EVO Select 256GB microSD card – $54.99 (down from $119.99)
Samsung's EVO-series microSD cards have Class 10 read and write speeds — up to 100MB per second and 90MB per second, respectively — which makes them suitable for 4K UHD video recording. An exception to this is the lowest storage tier, the 32GB model, which is slower, and more suited for HD video recording. However, if you care about video, all EVO cards do just fine at quickly saving high-resolution pictures.