Nokia 7.1 picks up official Verizon support, BYOD program lets you save $250
8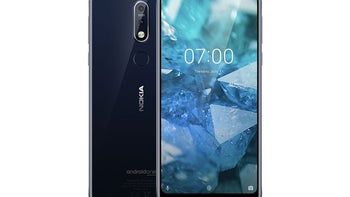 Looking at the official list of
Nokia smartphones available in the US
today, you'd be forgiven for forgetting the brand was pretty much dead and buried just three years ago. There are now no less than 11 Android handsets sold under the Nokia name stateside, either unlocked or through major carriers including Verizon and AT&T, ranging from the
entry-level 2V
to the high-end
9 PureView
.
But perhaps the most interesting of the bunch is the mid-range
Nokia 7.1
, which typically costs $350 in a version compatible with GSM networks at retailers like Best Buy and Amazon. Starting this week, the 5.8-inch Android One soldier can be activated on Verizon as well, according to official confirmation provided to the folks over at
9To5Google
. A new software update that's been in the works "for a while" is apparently making that possible, although unlike the aforementioned ultra-low-cost Nokia 2V, the 7.1 will not actually hit Verizon stores anytime soon.
Instead, the handset will remain available through its current channels, and you will be able to "bring" it to Big Red like any other carrier-certified phone. By "switching" to the nation's largest wireless service provider, you'll also be eligible for a free $250 prepaid Mastercard until August 8, which effectively brings the price of the Nokia 7.1 down to $0 if you choose to take advantage of the latest Best Buy discount. The retailer charges $100 less than usual with no upfront activation requirement, also letting you
save a whopping 150 bucks
if you don't have a problem taking the 7.1 to AT&T right off the bat.
While not exactly a must-buy at $350 anymore, this bad boy sure has a lot going for it at $250 (not to mention $0), including a premium metal-and-glass build, relatively sharp screen with 2280 x 1080 pixel resolution, decently powerful Snapdragon 636 processor, 4GB RAM, 64GB internal storage space, dual rear cameras with Zeiss optics, and a stock Android experience.
Recommended Stories