i-mate is back in the game – the Ultimate Series are announced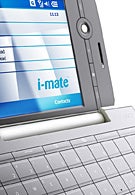 Today at the 3GSM show here in Barcelona, we are happyto see the new phones i-mate is preparing to launch - Ultimate series devices.All of these phones are running Windows Mobile 6 Professional (the successor ofthe Pocket PC Phones line) and have features that look almost perfect for suchdevices:
Operating System: Windows Mobile 6

Processor: Intel Bulverde 520MHz

Memory: 256MB ROM and 128MB RAM

microSD card slot

Quad-band GSM/EDGE and Tri-band UMTS/HSDPA

Display: VGA 640x480 262k color Touch display

miniUSB high-speed (480 Mbps), Bluetooth v2.0 + EDR, Wi-Fi 802.11b/g/e/i

Direct Video Out XGA

2.0-megapixel camera

1400 mAh battery

FM Stereo Radio
All the phones have exactly the samespecifications and features, but in different form factors, designs anddisplays. There are:
two candybars – one with numeric keypad and 2.6" display (Ultimate 8150) and one with only soft and navigations keys (Ultimate 6150) and 2.4" display
two clamshells – one standard (Ultimate 9150) with 2.6" internal and OLED 1.8" external and one landscape-opening with QWERTY keyboard (Ultimate 7150), 3.8" internal and 2.2" external displays
one slider (Ultimate 5150) with 2.8" display
We really like what we see on paper andhope we will also like the actual phones when we check them out at the i-mateboot, here at the 3GSM Show in Barcelona.Stay tuned for our hands-on experience later today or tomorrow.
Updated: i-mate told us that almost all of their current devices such as the JAQ3, SPL (if manufactures in the last 2 months) and PDAL will actually start shipping with WM 6 as well. For customers who already have i-mate phone, the company will provide ROM updates.