Two Pixel 3 exclusive apps hit the Google Play Store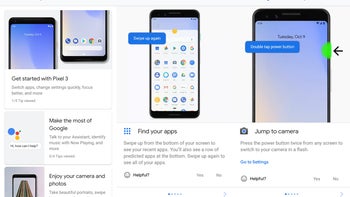 image source: Android Police
Earlier this month, the official
Pixel Stand app
hit the Play Store. Now, two other Pixel-exclusive apps have popped up on Google's online storefront – Pixel Tips and Connectivity Health Services.
Pixel Tips, as the name implies, is an app that provides users with helpful tips on their new Pixel 3 or Pixel 3 XL. There is a total of 20 tutorials packed in the app, each with its own sleek animation that shows how the feature works. Tips are grouped by type and range from how to make the most of Google Assistant, to taking better photos, to taking and editing screenshots easily. The same tips are available via the Settings app on the Google Pixel 3 and Pixel 3 XL.
Connectivity Health Services
is arguably the more interesting app, however, in that it promises to be
actually
useful, yet the description in its Google Play Store listing is extremely vague. It reads: "Improves battery health with connectivity optimizations." Things become even more mysterious when we factor in the Play Store screenshots for the app, which are the same image repeated four times. Yes, that's right. The app should come pre-installed on all Pixel 3 and Pixel 3 XL units anyway, though it remains to be seen whether it
actually
does something.