Make your home smarter with Amazon's latest Echo Dot and Smart Plug bundle, now 62% off!
1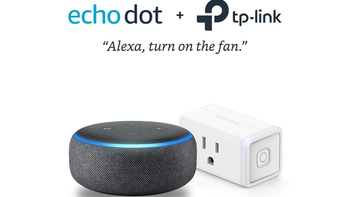 | Product | Location | Item condition | Price |
| --- | --- | --- | --- |
| Amazon Echo Dot (3rd Gen) + TP-Link Smart Plug Mini | Amazon | New | $76.98 -> $29 (62% off) |
Looking for the right time to get your hands on a smart speaker? If that's the case, Amazon's latest deal might be just for you. The e-commerce site is currently selling its latest Echo Dot for $24, a discount of $26 or 52%.
However, if you have an extra $5 to spare, we'd recommend going for the Echo Dot + TP-Link Smart Plug Mini bundle. Buying these two separately will usually set you back with $77, but right now you can get them for just $29.
Compared to its predecessor, the 3rd gen Amazon Echo Dot offers 70% better audio quality when listening to music and comes with a fresh new design. You can use the smart speaker to shop, for calls and messages, to stream music, search the web, and even to track your fitness or play games. Combining it with the Smart Plug will allow you to control various electrical appliances around the house - for example, you could use your voice to turn on lights, adjust thermostats, lock doors, find TV shows, and so on.
If these deals arouse your interest, feel free to follow the above link to Amazon. Please note that due to high demand, the bundle will be in stock on December 1, 2018.